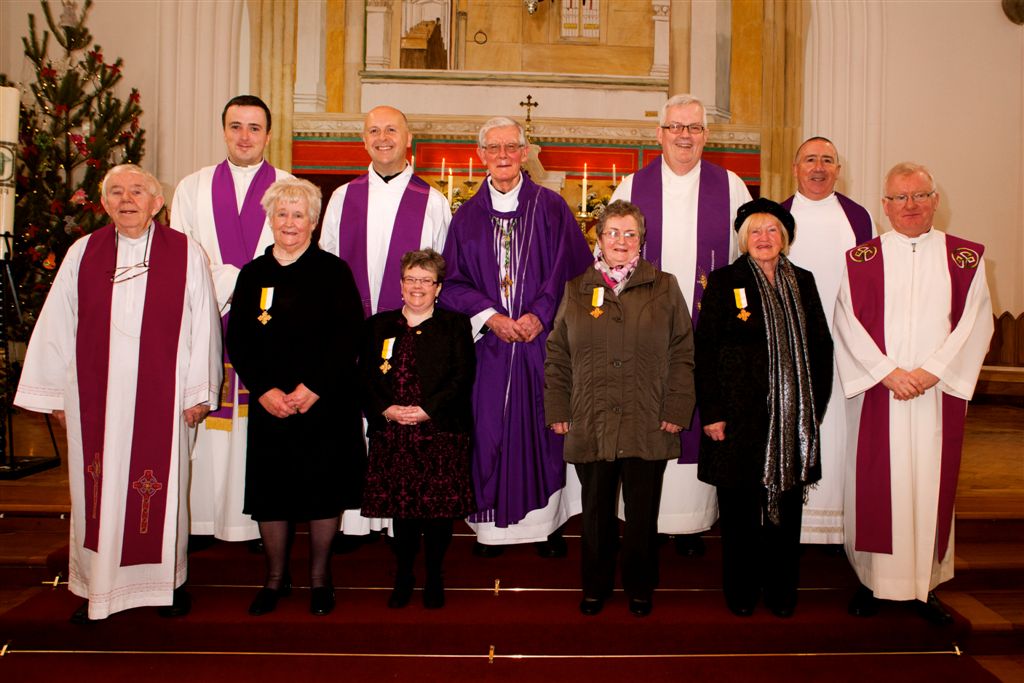 Parish Church of Corpus Christi, Lisdoonvarna, Co. Clare, Gaudete Sunday, 14th December 2014
Service is the secret of life
The American writer Mark Twain said that the two most important days of your life are the day you are born, and the day you find out why. It can take us a long time to find out for sure why we were born, to come to understand what life is really about. From the gospel that we have just heard we can see that the life of John the Baptist is about service, service of God and service of people. In God's plan that is the secret of life, that is our calling. Jesus praised John for that service which in the end cost John his life. Today, with the presentation of four Benemerenti medals we honour the outstanding service given over many years by four of your own parishioners.
Service of God
John the Baptist put himself at the service of God. That meant being available for what God wanted of him. As we know well, taking your religion seriously doesn't always get you praise! For many the Baptist was a nuisance. His God-shaken life made some very uncomfortable. He reminded them of what they could be and should be, To make matters worse for them John spoke about his faith and challenged them to take God more seriously. Service costs, sometimes in very personal ways. Despite the opposition John stuck with his convictions and many were won over. He was the genuine article, his witness was real. He was blessed to see some good results for his life of service.
Service of People
His life was service of his people. It is often said that people on the wrong road tend to run faster. They find it hard to admit that they might be wrong. We don't face reality easily. John the Baptist had some success in trying to persuade his audience to take another look, face reality and take responsibility for it. While they felt sure that all was well between them and God John saw it differently. Sure, they had many good religious practices, but who was being served by them? Put another way, what we do is important, but why we do it is even more important. What the Pharisees thought was service of God was a bit more complicated. Their religion had become a defence against accusation by God or man. Because of their practices they were thought well of; they had status. Because of what they did they felt safe; God could not accuse them. What they thought was for God was largely for their own protection. John said that it gave no honour to God; it was not service but self-serving behaviour. It was done to gain status in the eyes of people and feel safe from blame before God.
Service brings joy
John served his people by his preaching that pointed them towards God. His good example inspired them. What comes through clearly is how he was content with what God had given him. There is no craving to be more, have more, control more. What God gives is enough. That is true wisdom and great witness. John served with humility. He was thankful for what he had received and grateful that he could share his talents in a life of service. By sharing his gifts he came to appreciate them more and more. As always, generous service brings its own reward; it brings the joy that comes from sharing. And God loves a cheerful giver! Lewis Carroll, the author of Alice in Wonderland wrote, 'One of the deep secrets of life is that all that is really worth the doing is what we do for others.'
Today, as we give thanks for the service given by these four recipients of the Benemerenti medals, we pray that all of us may have the wisdom to know that service is our deepest calling in life. May we  all come to know the fulfilment and joy that service brings!
Notes for Editors
Bishop Martin Drennan is Bishop of Galway
This liturgical celebration and social gathering took place to celebrate the outstanding contribution of four women to the Church and to the local community over many decades. Hundreds of people packed Lisdoonvarna's Corpus Christi Church for the occasion.
The papal laureates are: Mary Mooney, Chris Arthur, Helene Lafferty and Helen McNamara.
Mary Mooney has served as Parish Clerk, and in many other parish and community service ministries, over many decades. Her late husband, Joe Mooney, was also awarded with this same papal recognition in 1991. It is thought to be a very rare occurrence for the Benemerenti gold medal to have been awarded to a married couple.
Chris Arthur, Helene Lafferty and Helen McNamara have served for many decades as organists and directors of sacred music in the four Churches which make up the parish: Lisdoonvarna, Kilshanny, Doolin and Toovahera. They have also distinguished themselves in many other apostolates of faith-building and of service.
The Holy Father, Pope Francis, bestowed the gold medal Benemerenti upon these four women in grateful recognition of the outstanding service they have given to the Lord Jesus and to His community, the Church.
Benemerenti awards are pontifical decorations instituted by Pope Gregory XVI in 1832, and are conferred upon exceptional people who have inspired others by their faith in action.
The medal is worn on the breast, suspended by ribbons of the papal colours. It is a gold Greek cross depicting the image of Christ, his hand raised in blessing. On the left of the transverse arm of the cross is a depiction of the papal tiara and the keys of Saint Peter, and to the right is the shield of the reigning Pope and his motto. On the reverse is the word Benemerenti, which means "well merited". The gold medal is accompanied by a parchment in Latin, issued by the Pope, which may be translated as follows:
THE SUPREME PONTIFF, FRANCIS,
using his power to honour by a mark of distinction,
has seen fit to bestow upon
(the recipient) the gold medal
Benemerenti
established for those exceedingly
well deserving in Christian service.
From the household of the Vatican,
on this 28th day of July, in the year 2014.
Parish Priest, Father Conor Cunningham, welcomed the assembly and highlighted the central meaning of the occasion: "Today is Gaudete Sunday, a special Sunday of Advent which calls us to be joyful, to rejoice always in the Lord. What a fitting day then for today's celebration! Let us rejoice and be glad. Let us be thankful to God – and to those who serve us, witness the faith to us, and – by their goodness – are signs of God's love to us. In honouring these inspiring ladies Pope Francis is reminding us all of our own personal calling to witness to the faith, and to serve the Lord and his people."
A parish party then took place in Mary Immaculate College next door to Lisdoonvarna Church, hosted by many volunteers from the worshipping community.
Photographs may be requested from the parish office in Lisdoonvarna at

[email protected]