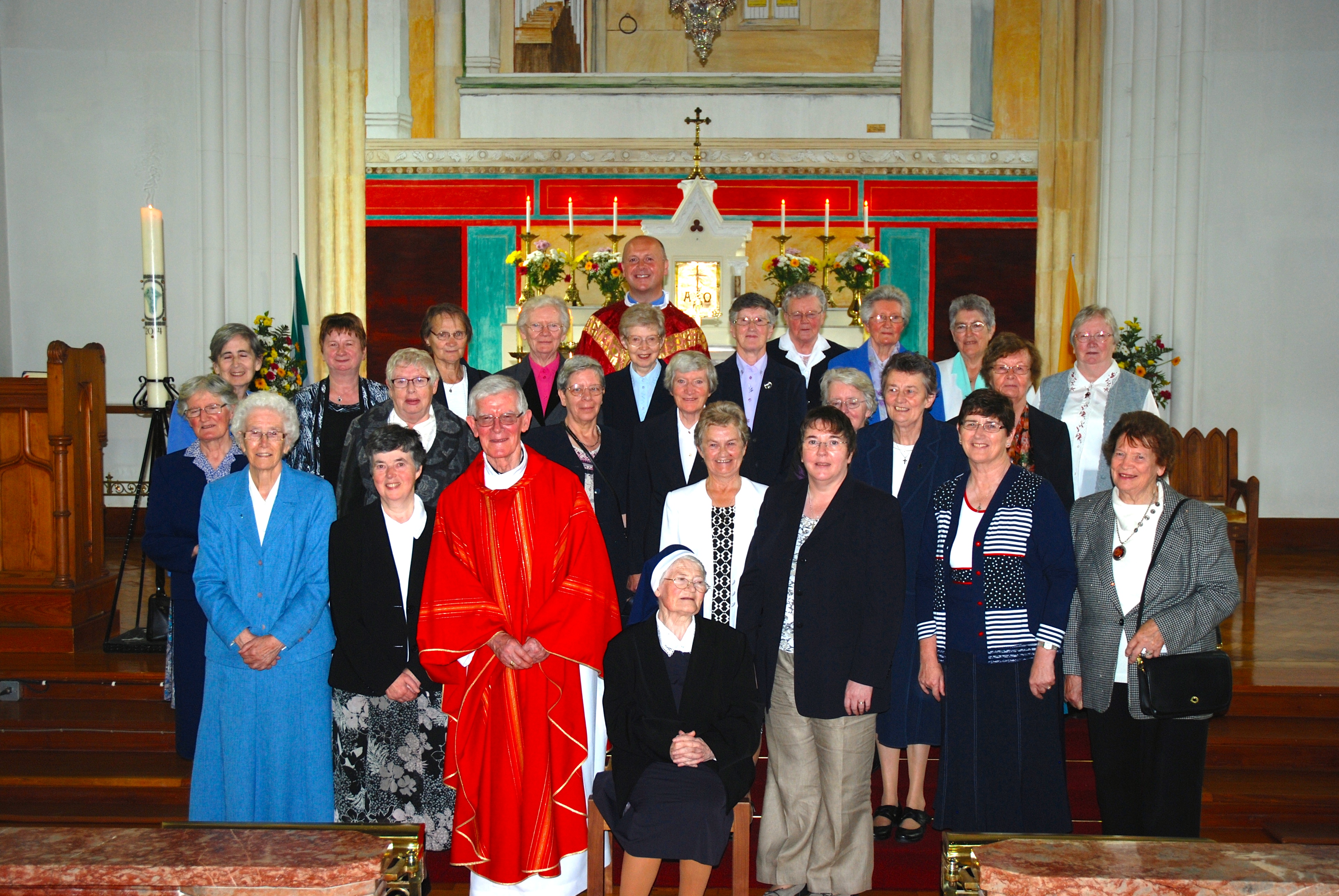 Living Reminders of God's Mercy
Some time back a priest was asked by a parishioner, "How would you like to be remembered when you move on from this parish?". "It really doesn't matter whether or not I am remembered", he replied. "I was sent here to make sure that God was remembered. If God is remembered when I leave here then I have done very well, and it won't matter much if I am forgotten." As the Sisters of Mercy today say farewell to this parish the best tribute we can pay them is to remember the God of mercy that shaped their lives and their work since they arrived here in 1947.If we have really benefitted from their presence, and met the mercy of God, it will show in a number of ways.
We Are Precious To God
The book Tuesdays With Morrie was hugely popular about ten years ago or so. The line I often recall from the book is this: "The culture we have does not make people feel good about themselves. And you have to be strong enough to say if the culture doesn't work, don't buy it." We have many troubled people in our world, including quite a few of the young people in our schools. When they put a low value on themselves, sadly this world does not tend to raise that price. The mercy of God can change all that! It welcomes us as we are and gives us back our best selves. Cardinal Basil Hume wrote, 'God can't count; with him everyone is number one!' Each of us is precious to God. We are loved and lovable, not because we are good, but because our God of mercy is good.
Service Is Fuelled By Prayer
The second reading today tells us that Jesus took on the form of a servant. Through a life of service he let us see mercy in action. Through their lives of service the Sisters of Mercy imitate him. Mention has been made already by the school principal, Mr. John O'Loughlin, of their outstanding contribution to education in this part of Clare. What few will have seen is the quiet service of God in their prayer. That presence to God in prayer gave them energy and enthusiasm for their work. In the presence of a great person we feel good, we feel capable of more. In the presence of our God of mercy we don't feel judged. Rather, we feel capable of taking on big things. That is the kind of prayer that inspired the Sisters. The fruits of their efforts can be noticed in two ways.
God's Mercy Frees Us To Appreciate The Gift Of Life
Firstly, the mark of an educated person is appreciation. The mature person knows that life has its great and not so great days, its successes and failures, but knows above all that life is good, that God is for us. As G.K. Chesterton said, 'The goal of life is appreciation'.
God's Mercy Frees Us To Be Compassionate To Others
Secondly, those who have truly encountered the mercy of God – and really value it – they in turn become compassionate to others. Jean Vanier, founder of l'Arche and the Faith and Light Community, expresses it this way, 'If you want to measure the quality of your life ask yourself what is your attitude to the weak of this world.' Our attitude to those who have failed, those with disabilities, addicts, those who have been in prison, this reveals how much the mercy of God has touched us.
We Give Thanks
The service provided by the Sisters of Mercy has brought us all into direct contact with the mercy of God. They have shared with us a wonderful gift. So today in this parish, we do not cry because that service is over but, instead, we smile because it happened. Thank you, Sisters!
+ Martin Drennan
Bishop of Galway and Kilmacduagh and Apostolic Administrator of Kilfenora
Parish Church of Corpus Christi, Lisdoonvarna, Co. Clare.
Feast of the Exaltation of the Holy Cross Sunday, 14th September 2014
Notes to Editors
This liturgical celebration and social gathering took place to celebrate the contribution of the Sisters of Mercy to the local community over many decades, to give thanks to God for their witness and their ministry, and to mark the recent closure of the convent in Lisdoonvarna and the departure of the sisters from the parish. Hundreds of people packed Corpus Christi Church to overflowing for the occasion.
The Sisters of Mercy founded Mary Immaculate College, a secondary school, in Lisdoonvarna in 1947 responding to the very serious need for educational opportunities in North West Clare.
Throughout this time a local convent of sisters in the parish further developed the school by serving as teachers, catechists, chaplains and pastoral caregivers to young people of the community.
The sisters also served the parish and the people of the surrounding areas as loyal friends and compassionate visitors of the poor, the sick, the elderly and the lonely. In other apostolates the sisters served as members of the Parish Pastoral Council, as Eucharistic ministry leaders, as leaders of the ministry of reader, as volunteer managers and board members of our National Schools, as volunteers with the local elderly day-activities centre Stella Maris, and as founders and animators of our parish branches of the St. Joseph's Young Priests Society, the Pioneer Total Abstinence Association, the Legion of Mary, and the St. Enda's Local Social Services.
Mary Immaculate College is now a thriving centre of educational excellence, and has been entrusted by the Sisters of Mercy to the patronage of CEIST – Catholic Education, an Irish Schools Trust a foundation supporting the educational ideals of five Catholic congregations: the Daughters of Charity, the Presentation Sisters, the Sisters of the Christian Retreat, the Sisters of Mercy, and the Missionaries of the Sacred Heart.  CEIST emphasises the dignity and rights of the human person, empowering the most vulnerable in society and enabling young people to become catalysts for social transformation throughout the world. CEIST is committed to honouring the founders' rich heritage of promoting inclusion, hospitality, excellence and compassion in a teaching and learning environment inspired by the Gospel and the Kingdom of God as announced by Jesus Christ.
Parish Priest, Father Conor Cunningham, welcomed the assembly and almost 30 Sisters of Mercy who had gathered from throughout  their Western Province. "Dear friends, Today we give thanks to God for all of the blessings our community has received over many decades from the love, the witness, the ministry and the presence of the Sisters of Mercy. We warmly welcome the Sisters here today! We also welcome our local apostle, Bishop Martin Drennan, who has come to lead us in prayer and thanksgiving by celebrating the Holy Sacrifice of the Mass for us. My special thanks to the young people of Mary Immaculate College for bringing the gift of their presence and their talents to beautify our liturgy today. They are signs that the charisms, vision and ethos of the Sisters are alive and well in our community! May our worship, praise and thanksgiving give fresh heart to us all in bearing witness to Jesus and in playing our own part in building up his kingdom of mercy and redeeming love."
School principal Mr John O'Loughlin, outlined the history of Mary Immaculate College highlighting the selfless generosity of many sisters since the school's foundation.
A bronze sculpture of the cross of the Sisters of Mercy, inscribed with the name of every sister who has served in Lisdoonvarna, had been created by Niamh Kelly and Millie King, young students of art at Mary Immaculate College and members of the Parish Youth Faith Group. The artists carried the sculpture in procession to the altar where it was blessed by Bishop Drennan. The sculpture is now on permanent display on the front wall of the school as a permanent memento and focal point at the heart of Lisdoonvarna village.
Sister Caitlin Conneely, provincial of the western province of the Sisters of Mercy, spoke before the final blessing of the Mass to express the affection and gratitude of the sisters to the community of Lisdoonvarna.
Photographs may be requested from the parish office in Lisdoonvarna at

[email protected]