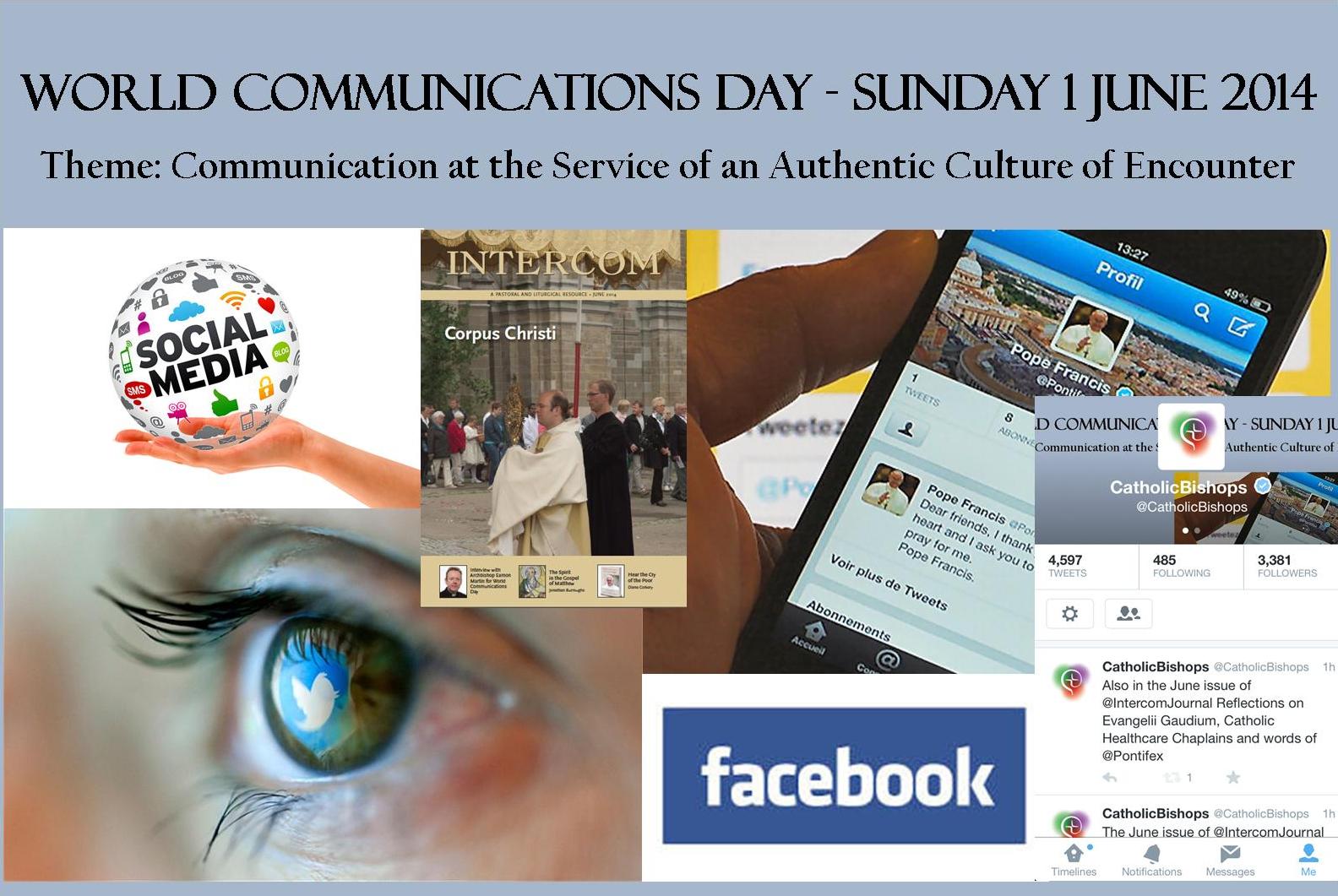 The 48th World Day of Social Communications will be celebrated on Sunday 1 June 2014, the Solemnity of the Ascension of the Lord and the Sunday before Pentecost on the theme 'Communication at the Service of an Authentic Culture of Encounter'.
In his message for World Communications Day Pope Francis asks: "How, then, can communication be at the service of an authentic culture of encounter?  What does it mean for us, as disciples of the Lord, to encounter others in the light of the Gospel?  In spite of our own limitations and sinfulness, how do we draw truly close to one another?  These questions are summed up in what a scribe – a communicator – once asked Jesus: "And who is my neighbour?" (Lk 10:29).  This question can help us to see communication in terms of "neighbourliness".  We might paraphrase the question in this way: How can we be "neighbourly" in our use of the communications media and in the new environment created by digital technology?  I find an answer in the parable of the Good Samaritan, which is also a parable about communication.  Those who communicate, in effect, become neighbours.  The Good Samaritan not only draws nearer to the man he finds half dead on the side of the road; he takes responsibility for him.  Jesus shifts our understanding: it is not just about seeing the other as someone like myself, but of the ability to make myself like the other.  Communication is really about realizing that we are all human beings, children of God.  I like seeing this power of communication as "neighbourliness"."
Click here to read the full text of Pope Francis' Message for World Communications Day 2014.
Intercom Magazine article by Archbishop Eamon Martin 
Click the link below to read an article by Archbishop Eamon Martin, Coadjutor Archbishop of Armagh and Chair of the Bishops' Council for Communications, in which he reflects on this year's papal message and the challenge of communicating the gospel in 2014. This article appears in the June 2014 issue of Intercom Magazine and is shared here with the permission of the Editor.
June 2014 Intercom interview with Archbishop Eamon Martin
Principles to guide our presence in the Digital Highways 
Archbishop Eamon Martin offers 10 principles to guide our presence in the Digital Highways. These principles (see below) are taken from an address which was delivered at the Soul Waves Radio conference in Dublin on 19 May 2014.  Click here to read the full text of this address.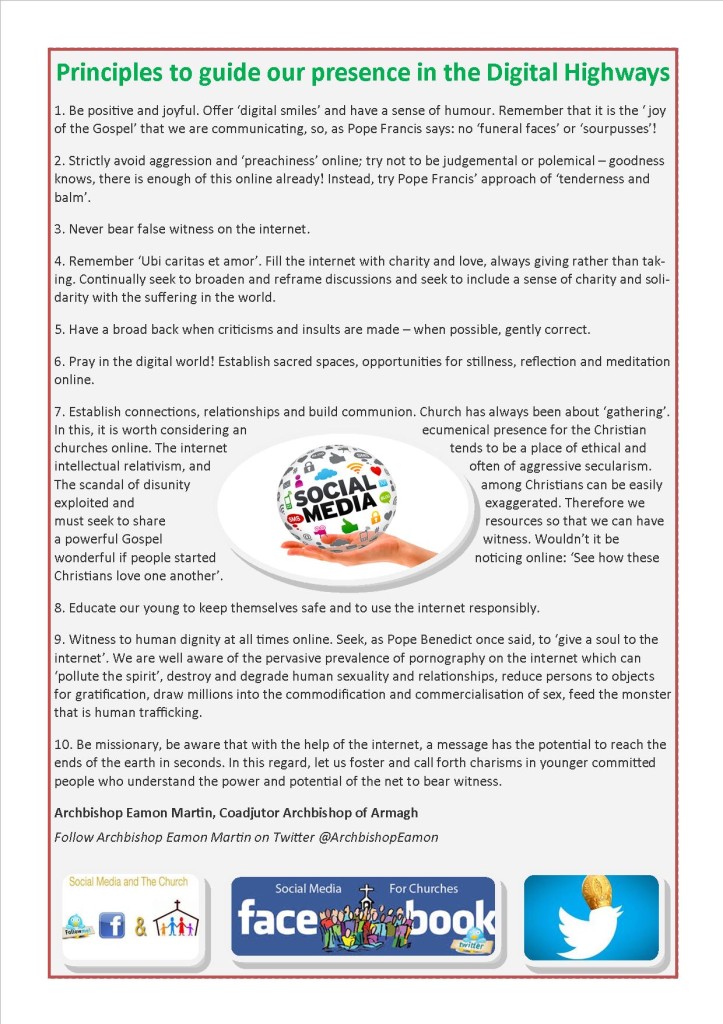 Follow Archbishop Eamon on Twitter @ArchbishopEamon.
Communications Prayer
Holy Spirit,
you blessed the first disciples
with the power to spread God's love
throughout the world.
Give me a new power to proclaim your word
through my own unique gifts
and through the channels of clear communication.
Make me willing to receive that word
as it enters my daily life.
Bless all who use their talents
in the field of communications.
Guide those who send out the message
and those who receive it,
so that all people
may come to know your truth
and be renewed by your love.
We ask this through
Jesus Christ, Our Lord.
Amen
Saint Francis de Sales 
The text of the Pope's message for World Communications Day is released on 24 January each year which is the Feast of Saint Francis de Sales, the Patron Saint of writers and journalists. Saint Francis was born in Savoy in 1567. He was educated at home first and then studied rhetoric, philosophy and theology at the University of Paris. In 1591 he became a Doctor of Law at Padua. History tells us that could have had a brilliant career, but he refused many opportunities because he wanted more than anything else to become a priest – much to his father's disappointment. However, he eventually won his father's consent and was ordained in 1593. St Francis soon became known for being a distinguished preacher and for his service to the poor. In 1593 he made the journey to Chablais to undertake the task of converting the people from Calvinism. In spite of many dangers – there were attempts on his life and he travelled through wild parts of the country inhabited by wolves – he survived, and preached Catholic doctrine with great love and understanding, patience and gentleness. These were to be the main hallmarks of his life. One of his favourite sayings was "you can attract more flies with a spoonful of honey than with a whole jar of vinegar." Saint Francis became bishop of Geneva in 1602. He excelled in administrative work, preaching, teaching and spiritual direction. During these years he wrote The Treatise of the Love of God, followed by the Introduction to the Devout Life, which was aimed at lay people. This was instantly acclaimed as filling a long felt need and was translated into several languages. Saint Frances was very important in the revival of French Catholicism in the 17th century, but his works have appealed to Christians for many generations all over the world. He died at Lyon in 1622, was canonised in 1665, and made a Doctor of the Church in 1877.
Previous themes addressed for World Communications Day
2006: The Media: A Network for Communication, Communion and Cooperation
2007: Children and the Media: a Challenge for Education.
2008: The Media: At the Crossroads between Self-Promotion and Service. Searching for the Truth in order to Share it with Others
2009: New Technologies, New Relationships. Promoting a Culture of Respect, Dialogue and Friendship
2010: The priest and pastoral ministry in a digital world: new media at the service of the Word
2011: Truth, proclamation and authenticity of life in the digital age
2012: Silence and Word: Path of Evangelization
2013: Social Networks: portals of truth and faith; new spaces for evangelization.