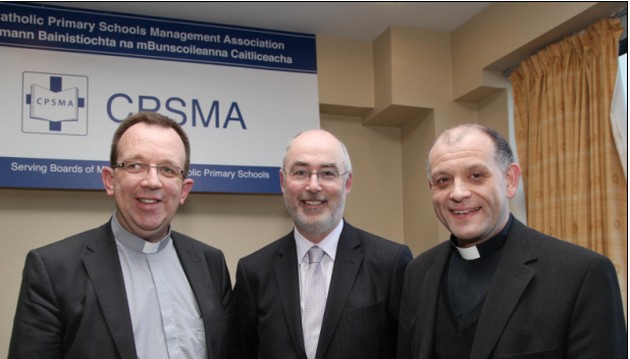 Address by Father Tom Deenihan, General Secretary of the Catholic Primary Schools Management Association, at the CPSMA Annual General Meeting
Theme for AGM 2014: "Catholic Schools serving the community with dignity and care"
Radisson Hotel, Dublin Airport – 28 February 2014
It is as well to mention from the outset that my primary engagement with CPSMA over the past number of years has been as Diocesan Secretary and Diocesan Education Secretary for the Diocese of Cork & Ross. I see CPSMA as being a support for Catholic schools throughout the country in relation to all aspects of Management. There is a distinction between Patronage and Management and CPSMA respects that distinction. Management must be concerned with policy, ethos, governance, curriculum and learning. CPSMA must represent all Catholic schools and do so in such a way that it assists and facilitates the work of all boards of management, the members of whom give of their time on a voluntary basis to serve their communities. I also believe that CPSMA must work collaboratively with the Diocesan Education Offices who work with schools on a grass roots basis. At this time there is a challenge and an opportunity for all of us to devise structures where this collaboration can occur so as to consolidate the support that Catholic primary school boards of management require and deserve.
Today I wish to record my appreciation to Ms Eileen Flynn, Ms Margaret Gorman and Ms Linda Gorman for their work with the organisation. CPSMA has invited them to our dinner tonight and will make a presentation to them on behalf of all our members. It seems to me that CPSMA has been blessed with previous general secretaries, Sister Eileen Randles, Monsignor Dan O'Connor and Eileen Flynn, who took the reins at different times and brought necessary and different emphases to the organisation.
I must also record my thanks to the Minister, Ruairi Quinn, TD, and his Officials for their support, both professional and personal, since my appointment. I very much value that interaction and I believe that Primary Education in Ireland is best served by good communication between the Department and CPSMA. Minister Quinn has, on several occasions, tendered his apologies for not being able to attend our AGM due to his absence on Government business. He has also progressed matters in relation to his commitment, given at last year's AGM, to bring discussions on the Deed of Variation to a mutually agreeable conclusion. He is in contact with the Patrons in that regard and matters are progressing thankfully. I must acknowledge his availability, courtesy and support over the past few months and I look forward to further collaborative interaction with the Minister and his Officials for the good of Primary Education in Ireland. In a similar vein, I must also record my appreciation for the good wishes of the INTO. Shelia Nunan, its General Secretary, whom I have met on a number of occasions and I look forward to consolidating the links between CPSMA and the INTO. We have also met with the IPPN and it is important that we all work together, where we can, to advance the cause of Primary education.
CPSMA has, previously, supported the Wellsprings Programme and I would hope that there would be scope for further projects like this, supported by our central office. Indeed, it makes sense that CPSMA would work collaboratively with bodies such as the Catholic Schools Partnership, under the Chairmanship of Father Michael Drumm, as CSP seeks to provide a unified voice for Catholic education in Ireland and has, in a relatively short time, succeeded in doing that. A good example of this collaboration was our submission to the Department of Education & Skills in relation to pluralism, as this was a joint CPSMA/CSP submission.
The theme of our AGM this year is 'Catholic Schools, Serving the Community with Dignity and Care.' That topic is not just central to our schools but is also timely. There is a narrative that Catholic schools are selective, sectarian and do not educate children together. The narrative is false, if not mischievous. One school that I am very familiar with is Saint Maries of the Isle Convent National School in Cork city. There are 218 pupils on the roll books. These children come from 35 different countries and belong to 13 different religions and denominations. Furthermore, they are served by four resource teachers and eight Special Needs Assistants. Who – be they politician, journalist or commentator – can say that this Catholic convent school is not inclusive in terms of religion, nationality or ability.
This school is but one example of a Catholic school serving the community. It is replicated in every diocese and town in Ireland. In fact, it is regrettable that the whole debate on inclusion and inclusivity has focused on the single area of religious affiliation. Inclusion is much more than that and I say with certainty and conviction that our Catholic schools are as inclusive as any other and more so than many!
The impression has also been given that such schools have an unhealthy obsession with the teaching of religion, even to the exclusion or the detriment of literacy and numeracy. That argument does not hold. Catholic schools, both at primary and post-primary level, are sought after and the recent survey of parents in relation to patronage conducted by the Department of Education & Skills, illustrates this fact better than I ever could. Indeed, the irony of the matter is that many who make such an argument have attended such Catholic schools themselves and may very well be continuing to choose them for their family. While I am in no position to comment on their religious knowledge, their literacy and numeracy skills seem quite good and, in many cases, even above average!
Again, resorting to local knowledge, in Ballygarvan, County Cork, recently it became clear that a new school was required due to a significant population growth as a result of the city extending. The Department would build the school but would only give a limited lease to the Catholic bishop in terms of a school under Catholic patronage, despite the diocese making some of the land available for the school. The local community purchased the remaining land, in two transactions, from Cork County Council and a private individual at a cost of €360,000. This is in addition to making a third parcel of land, owned by the parish, available for the school. This local Catholic Community is now repaying this loan from their contributions to the offertory collection on Sundays so that they can be assured of a Catholic school in their community. They also, as citizens, pay tax to the State. Communities still want a Catholic primary education for their children. That is often overlooked or even ignored.
In referring to this example, I seek in no way to enter the debate on patronage and the divesting of primary schools to other patrons. Archbishop Diarmuid Martin, Archbishop of Dublin, last week referred to the phenomenon of supporting divesting but not in one owns locality. That anomaly is replicated countrywide and many hold or support the principle of divesting as a concept but would not avail of it themselves. A challenge will be to cater for those who do not wish to attend a Catholic School, when such are a minority in a given area.
However, that discussion is one for patrons, not management, and CPSMA will and must support the patrons in that process in any way we can.
At the launch of Catholic Schools Week which took place last month at Saint Dominic's College, Cabra, a student read a poem, entitled Our Deepest Fear written by a Marianne Williamson and which was spoken by the late Nelson Mandela during his inauguration speech in 1994. One sentence stood out for me, 'There is nothing enlightened about shrinking so that other people won't feel insecure around us'. That is the challenge to all in Catholic school management. We do serve the community, there is a demand for the service that we provide and in providing that service and in remaining true to our ethos, we are not exclusive, sectarian or fundamental. Catholic schools, by their very nature, recognise that we are not made for this world only and so we teach about and prepare our students, as best we can, for an eternal life with God. Are we to be deterred from doing that, are we to shrink from this belief and responsibility so that we will not cause offence? The argument, of course, is false because it is not so much a case of either/or than it is of both/and! Catholic schools prepare their students for this world – and the next!
It is timely to reference soon to be Saint John Paul, author of The Catholic School on the Threshold of the Third Millennium who wrote that, 'Catholic schools, moreover, like State schools, fulfil a public role, for their presence guarantees cultural and educational pluralism and, above all, the freedom and right of families to see that their children receive the sort of education they wish for them'. In the context of Ireland that freedom and right of families is important and is part of our Constitution.
That viewpoint was also reinforced by the survey on patronage that was conducted by the Department of Education & Skills recently. Catholic schools are inclusive, serve the community and are managed in a partnership by a voluntary board of management, representing patron, parent, teacher and community. They do enjoy the support of the communities that they serve. That fundamental point cannot be overlooked.
Whilst constructive criticism is necessary in the area of education provision, much of the negative commentary concerning faith schools, and the teaching of religion, has been inaccurate and unhelpful. It is disrespectful to those who teach in such schools as it is to those are to those who enrol therein. And it is also disrespectful to those who give of their time, voluntarily, on their boards of management as a service to the local community.
I am delighted that Father Friedrich Bechina, from the Congregation for Catholic Education in Rome, has accepted our invitation to be our keynote speaker today. Father Bechina has been to the forefront of the debate in relation to Catholic education and intercultural dialogue and service to the community. The most recent document from his Congregation, Educating to Intercultural Dialogue in Catholic Schools is essential reading for all Catholic educators. While reading that document recently, I was struck by Paragraph 56:
It is important for Catholic schools to be aware of the risks that arise should they lose sight of the reasons why they exist. That can happen, for example, when they unthinkingly conform to the expectations of a society marked by the values of individualism and competition. It can also happen through bureaucratic formalism, the consumerist demands of families, or the unbridled search for external approval. Catholic schools are called to give dutiful witness, by their pedagogy that is clearly inspired by the Gospel – a fortiori in a culture that demands that schools be neutral and removes all religious references from the field of education. Catholic schools, being Catholic, are not limited to a vague Christian inspiration or one based on human values. They have the responsibility for offering Catholic students, over and above a sound knowledge of religion, the possibility to grow in personal closeness to Christ in the Church. In fact, 'one of the fundamental human rights, also with reference to international peace, is the right of individuals and communities to religious freedom … It is becoming increasingly important to promote this right not only from the negative point of view, as freedom from – for example, obligations or limitations involving the freedom to choose one's religion – but also from the positive point of view, in its various expressions, as freedom for – for example, bearing witness to one's religion, making its teachings known, engaging in activities in the educational, benevolent and charitable fields which permit the practice of religious precepts, and existing and acting as social bodies structured in accordance with the proper doctrinal principles and institutional ends of each.
That is, I think, the context in which the Catholic school is operating at this time in Ireland and I very much look forward to hearing Father Bechina's address this afternoon.
In conclusion, I would like to thank you for your presence at today's AGM and for your support of Catholic schools. As general secretary, I am aware of the needs of Catholic primary schools today and with your good will and the direction, advice and support of Standing Committee and the educational executives in central office, I hope that CPSMA will proactively support the Catholic aspect of our schools and provide support for all those who are doing that effectively at local level. CPSMA can only function when it represents the views and addresses the difficulties that are held and experienced at a parish and local level. In that regard, I look forward to working closely with the Standing Committee and the Diocesan Education Secretaries over the coming months so that CPSMA can do what it does even better!
ENDS
Notes to Editors
• Photographs from today's CPSMA AGM are available to media from John McElroy 00 353 (0) 87 241 6985.
• The CPSMA is a recognised school management association and represents all the boards of management of the over 2,900 Catholic primary schools in the Republic of Ireland.
For media contact: Catholic Communications Office Maynooth: Martin Long 00353 (0) 86 172 7678