• In 2013: 15,200 people attended ACCORD marriage preparation courses; ACCORD delivered 50,952 marriage counselling hours – see regional breakdown below
New figures for the year 2013, and which have been released today by ACCORD Catholic Marriage Care Service, indicate an increase in demand for its two key services: marriage preparation; and separately, marriage counselling. Please see below illustrated bar-charts which show ACCORD figures for the last four years, and data by region in table form.
ACCORD operates 58 centres throughout Ireland – North and South – and is an agency of the Irish Catholic Bishops' Conference.
Marriage preparation
During 2011 and 2012, there was a modest increase in demand for ACCORD marriage preparation courses, however during 2013 demand has increased significantly by 7.2% with over 7,600 couples taking part in ACCORD's marriage preparation courses.
Marriage and relationship counselling
Demand from individuals and couples for ACCORD's marriage and relationship counselling service continues to rise. ACCORD counsellors delivered a total of 50,952 counselling hours in 2013, an increase on 2012. The level of demand for the service from year to year reflects a number of key factors:
– ACCORD's experience and reputation as a provider of professional counselling to individuals and couples in marriages and relationships.
– ACCORD's network of 58 centres throughout Ireland ensures that its counselling service is widely available and easily accessible to those in both urban and rural areas.
– ACCORD's counselling service is based on the needs of clients, and not on their ability to pay, thus ensuring that those under financial pressure can access ACCORD's counselling service at a cost they can afford.
In 2013 ACCORD counsellors worked with 6,324 cases, 56% of which were couples and 44% of which were individuals. A total of 9,890 people attended ACCORD for counselling in 2013. The average number of counselling sessions attended was 7.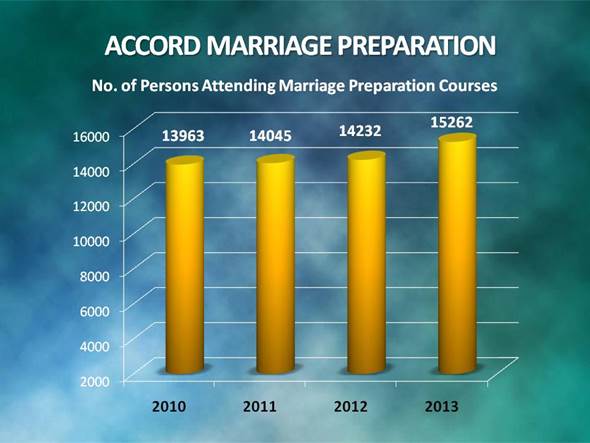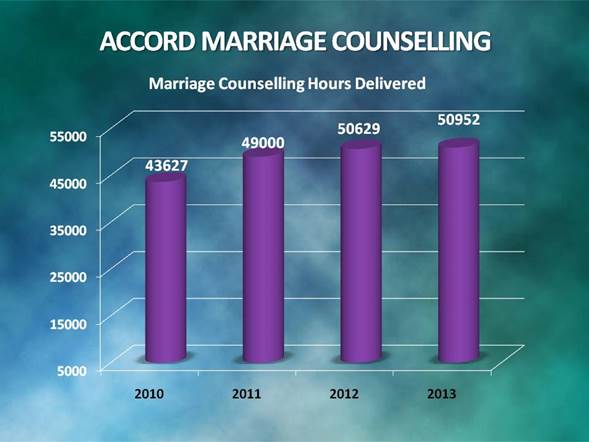 Comment by Bishop Jones
Commenting on today's figures Bishop Christopher Jones, President of ACCORD said: "ACCORD is pleased to be busier than ever as we support couples preparing for the Sacrament of Marriage. Our feedback from clients has been positive and speaks for itself with increasing numbers of couples choosing to participate in an ACCORD marriage preparation course. This is an investment couples are choosing to make as they prepare for one of the biggest decisions of their lives. We in ACCORD feel privileged to work with couples as they put in place the building blocks of what will hopefully contribute to a happy and stable marriage.
"While an increase in demand for marriage preparation courses is a positive development, ACCORD figures also indicate an increase in 2013 in demand for our marriage counselling service and, sadly, this tells another story. Difficult economic times have put pressure on people and in turn on their marriage and on their family relationships. Today my key message is for those who are experiencing difficulty in their marriage and family: ACCORD exists to help you explore, reflect upon and resolve difficulties in your marriage and relationship."
Bishop Jones concluded, "We need to shout out the good news that marriage serves the common good and contributes to the wellbeing of all in society. We need to support those preparing for and living the Sacrament of Marriage and help to protect the institution of marriage and the family. One of the ways in which we can do this is to highlight the happiness and joy which comes from being faithful to a marriage and to family life while, at the same time being alert to those couples experiencing difficulty and extending to them support and compassion."
Special blessing of engaged couple at the Shrine of Saint Valentine
To coincide with this ACCORD launch, Father Bernard Murphy O.Carm, Curate at Our Lady of Mount Carmel, Whitefriar Street Church in the Archdiocese of Dublin, blessed an engaged couple Ms Helen Young and Mr Conor Kavanagh at the Shrine of Saint Valentine in the church. The couple are both from Dublin, Helen from Rathfarnham and Conor from Harold's Cross. They will be married in Rathfeigh Church in the Diocese of Meath on 26 June 2014.
Father Murphy said, "I am very happy to have the opportunity to officiate at this special blessing of Helen and Conor, who are preparing for the Sacrament of Marriage. We gather for this blessing at the Shrine of Saint Valentine, which for generations has been a place of pilgrimage and prayer for couples wishing to express their love for one another. Today let us pray together at this holy place for Helen and Conor, and let us pray also for engaged couples everywhere." (see Prayer for Engaged Couples below)
ACCORD marriage preparation courses and counselling hours delivered for the years 2010, 2011, 2012 and 2013
ACCORD has 58 centres operating within six regions across the island of Ireland. Please see below the breakdown for ACCORD marriage preparation courses, and for ACCORD counselling hours, which were delivered in the regions and centres.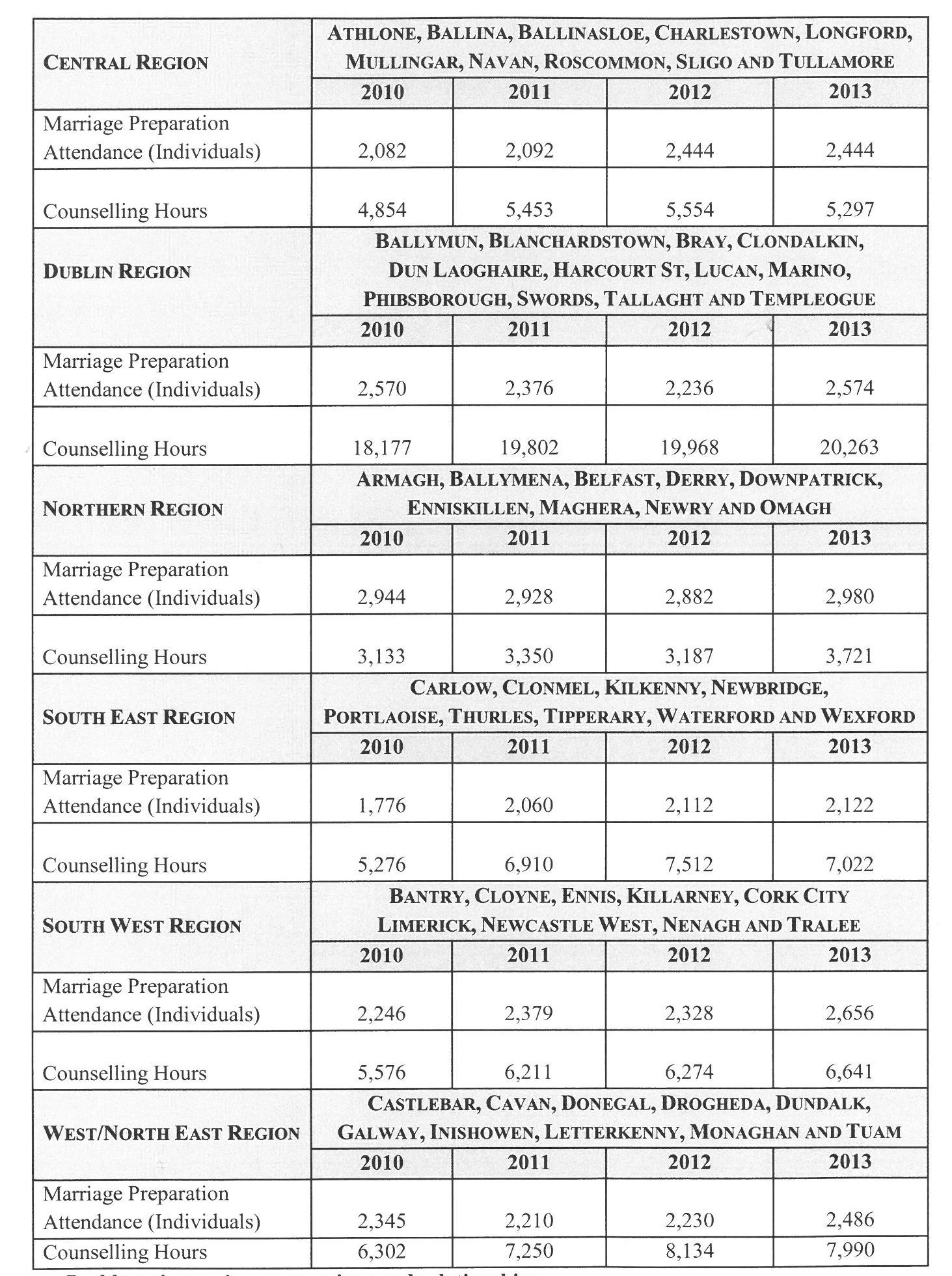 Problems impacting on marriage and relationships
The following table contains ACCORD data for the year 2013 indicating how individuals and couples attending ACCORD counselling rated the significance of some of the problems impacting on their marriage and relationship: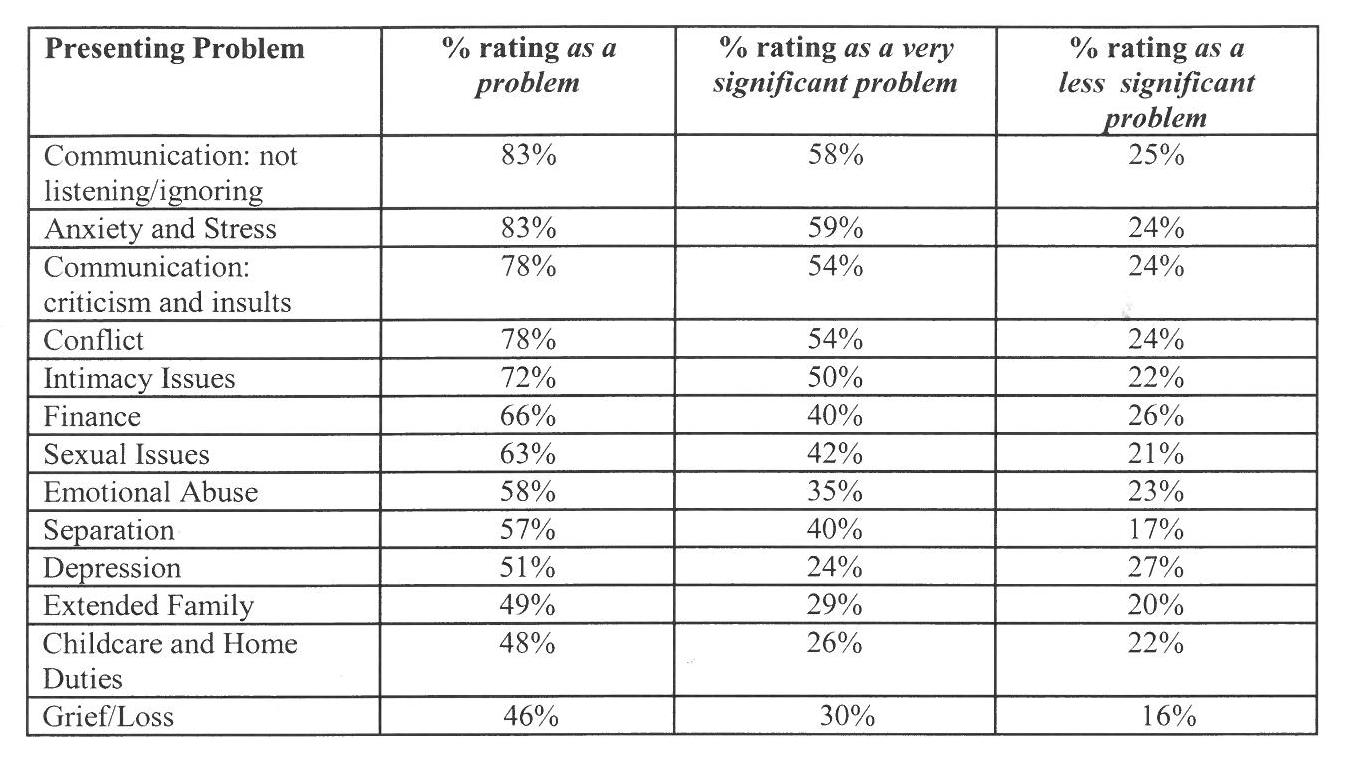 Notes to Editors
ACCORD Catholic Marriage Care Service can be contacted on www.accord.ie or LoCall: 1890 227 427 (RoI) and accordni.com or 028 9023 3002 (NI), and is an agency of the Irish Catholic Bishops' Conference. The first ACCORD centre in Ireland was opened in 1962 at Saint Mary's Parish, Belfast, in the Diocese of Down & Connor. ACCORD is a voluntary Catholic organisation which aims to promote a deeper understanding of Christian marriage and to offer people the means to safeguard and nourish their marriage and family relationships. ACCORD operates in 58 centres throughout the island of Ireland – North and South – and is committed to providing a professional service. Members, coming from a wide variety of backgrounds, are trained and work under supervision in accordance with best practice. The Child and Family Agency (RoI) is the major source of funding for ACCORD. ACCORD also operates with the support of the Health Service Executive (RoI) and the Department of Health, Social Services and Public Safety (NI) and various health trusts. Bishop Christopher Jones, Bishop of Elphin, is President of ACCORD.
Relics of Saint Valentine are interred in the Carmelite Church in Whitefriar Street, Dublin. Saint Valentine, a priest in ancient Rome, is regarded as the patron saint of couples in love, preparing for marriage and of married life. Saint Valentine was martyred on 14 February 250 AD. Pagan ritual associated 14 February with love and after his death this date became associated with Saint Valentine. In 1836 relics that were exhumed from the catacombs of Saint Hippolytus on the Via Tiburtina, then near Rome, were identified with Saint Valentine. These relics were placed in a casket, donated by Pope Gregory XVI, and transported to the Whitefriar Street Carmelite Church in Dublin.
Photographs from today's ACCORD launch are available from John McElroy on 087 2416985.
Prayer for Engaged Couples
Heavenly Father, we praise You for your wisdom in arranging
that man and woman should not be alone but should unite themselves
to each other to form a living cell or unit,
bringing forth new members for your Kingdom.
Bless all couples who have manifested their intention
to unite in marriage in the future.
Keep them close to You and to one another,
deepen their spirit of prayer and love,
and lead them to receive the Sacrament of Marriage with joy and happiness.
We ask this in the name of Jesus the Lord.
Amen

ENDS
For media contact: Catholic Communications Office Maynooth: Martin Long 00353 (0) 86 172 7678 or Brenda Drumm 00353 (0) 87 310 4444.