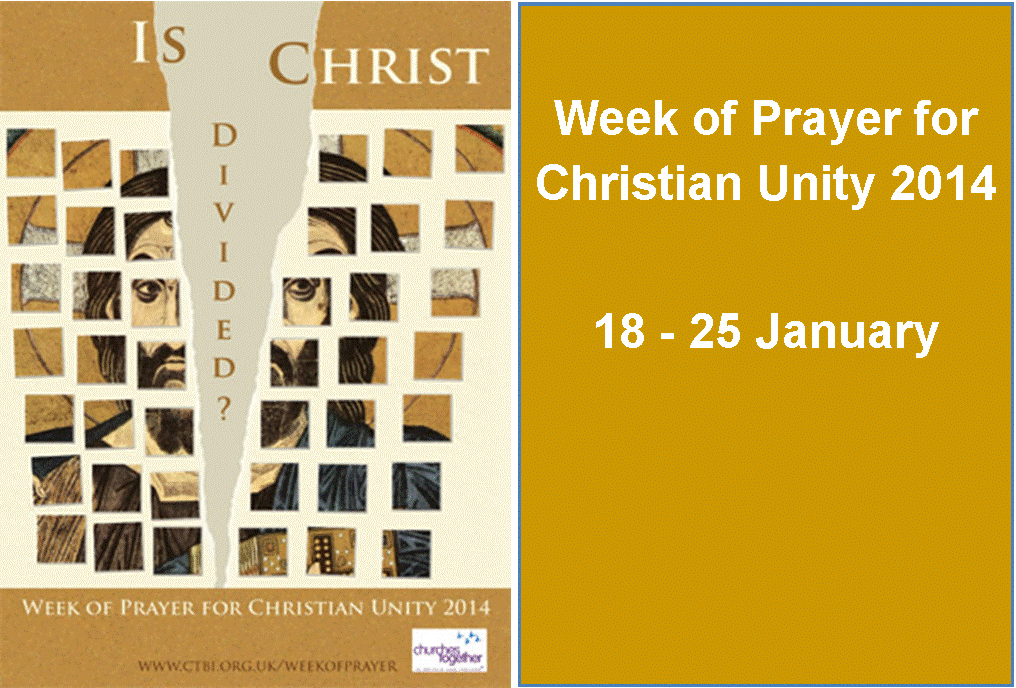 The Week of Prayer for Christian Unity is traditionally observed from the 18th to the 25th January – the octave of Saint Peter and Saint Paul. The theme this year is week is 'Is Christ Divided? This year's theme was chosen by the Churches of French Canada and comes from Saint Paul's provocative question in 1 Corinthians, "Has Christ been divided?".  Paul begins his letters to the Corinthians with a powerful opening. This passage touches on themes that certainly prepare us for what is to come in these letters and lay a solid but challenging foundation for our reflections as Christians living and working together in churches and society today.
A series of resources are available for use during the Week of Prayer for Christian Unity and are available below.  These resources include a special set of daily reflections for the eight days so as people may observe the Week of Prayer for Christian Unity for themselves. Each of the days begins with the word "Together…". This is to emphasise that the Body of Christ is not divided. Together reminds us that in Christ we are one and that in all aspects of our Christian  living we should seek to discover that unity which is God's gift to us.
Day 1 – Together…we are called to be saints (1 Cor 1: 2)
We reflect on how God calls us to be 'a chosen race, a royal priesthood' and
consider our attitudes, and behaviour and action as saints.
Day 2 – Together…we give thanks for God's grace in one another (1 Cor 1: 4)
We celebrate God's grace and the many ways in which it is manifest in our diverse Christian communities.
Day 3 – Together…we are not lacking in any spiritual gifts (1 Cor 1: 7)
We recognise we have been given abundant gifts and that together we have everything necessary to do God's work.
Day 4 – Together…we affirm that God is faithful (1 Cor 1: 9a)
God's faith and love for us calls and inspires us to strive for justice and unity.
Day 5 – Together…we are called into fellowship (1 Cor 1: 9b)
We consider our need for friendship and togetherness, with each other and with Christ.
Day 6 – Together…we seek to be in agreement (1 Cor 1: 10)
We acknowledge that disagreements are painful and divisive but that, with God's guidance, we can reach out to each other in peace and unity.
Day 7 – Together…we belong to Christ (1 Cor 1: 12-13)
Recognising and rejoicing in the gifts of different church traditions is a step towards Christian unity.
Day 8 – Together…we proclaim the gospel (1 Cor 1: 17)
We have journeyed through the Week of Prayer for Christian Unity reflecting on and celebrating how we are bound together as Christians through God's
abundant gifts to us. Our response to his outpouring of endless love is to unite in sharing the Good News.
2014 Resources for download