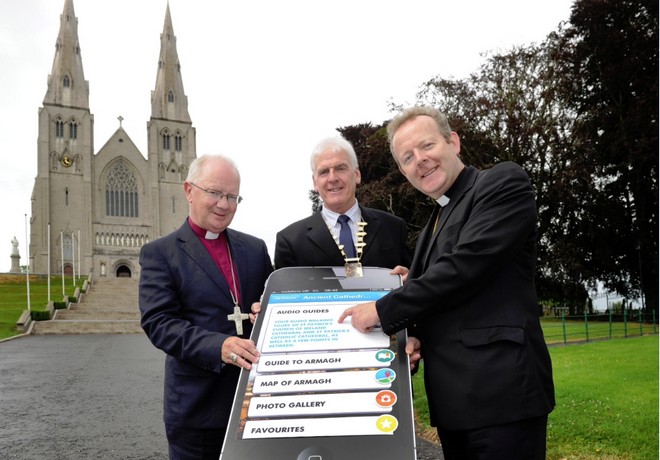 App Puts Armagh Cathedrals on the Digital Map
Churches target mobile devotees in major development for local tourism
Armagh's religious leaders have joined forces to launch a brand new tourist app which is designed to provide thousands of mobile visitors and local residents with a comprehensive digital guide to the city's two world-famous Cathedrals.
The latest, cutting-edge technology has been used to produce the innovative, digital guide, and will be used to help visitors navigate their way in and around the two impressive and iconic buildings. The app, which is free to download, has been partly financed by the European Union's INTERREG IVA Programme which is managed by the Special EU Programmes Body and involved special input from both churches and Armagh City and District Council.
Representatives from the two principal churches in Ireland – Archbishops of Armagh, The Most Reverend Dr Richard Clarke and Coadjutor Archbishop of Armagh, Monsignor Eamon Martin – came together to launch their joint digital creation.
The move marks yet another historic moment for both Cathedrals in Armagh and shows that the two main churches in Ireland are at the forefront of embracing the latest digital technology to connect with visitors.
Councillor Gerald Mallon, Chairman of East Border Region stated; "Thousands of visitors come to Armagh every year specifically to visit the two well-known cathedrals. This new app will make these visits even more informative, easier to navigate and all the more enjoyable. With the massive growth in the use of mobile apps for everyday essentials, travel, news and social media, we're delighted to have been able to work with Armagh City and District Council to fund and develop this new mobile resource which will help attract an even wider audience to Armagh."
The app is designed to encourage visitors of all ages to explore the two magnificent Saint Patrick's Cathedrals of Armagh; guiding them through the spiritual, cultural and historic heritage of these two iconic Cathedrals.  Through the app, visitors can explore over 1,500 years of history in the ecclesiastical capital of Ireland. The app offers an in-depth guided tour of both Saint Patrick's Church of Ireland Cathedral and Saint Patrick's Catholic Cathedral and is designed to help visitors enjoy the Cathedrals' unique history, architectures and spiritual life.
Using the latest technology, visitors simply follow the suggested points and when they arrive at each location, the app will provide further information on that point of interest.
Visitors can also enjoy a sacred experience in the Ancient Cathedral City, exploring the many evocative spaces, stories and symbols within the app. The project is part of the East Border Region's Tourism Development Programme which has secured in excess of £2.7 million of INTERREG IVA Funding to enhance the tourism product across the entire East Border Region and encourage an increase in cross border tourism activity.
Speaking about the use of new technology, The Most Reverend Dr Richard Clarke, said:
"This is a great opportunity to make this cathedral city much more appealing to audiences of every age and I'm thrilled that Armagh's Cathedrals are the first in Ireland to have introduced this type of technology to improve our visitor experience. I'm looking forward to seeing the app in everyday use and I hope that many more people will enjoy their experience because of it."
Coadjutor Archbishop of Armagh, Dr Eamon Martin, added:
"The Church is very open to new technology and understands the importance of embracing it as part of its future. This app will provide visitors with a wealth of information, interesting facts and history and I'm confident that it will encourage even more people to visit both historic sites and enable them to engage with us."
The free app is available to download free on both Android and Apple. For more information visit www.armagh.co.uk contact Armagh Tourist Information Centre on 028 3752 1800.