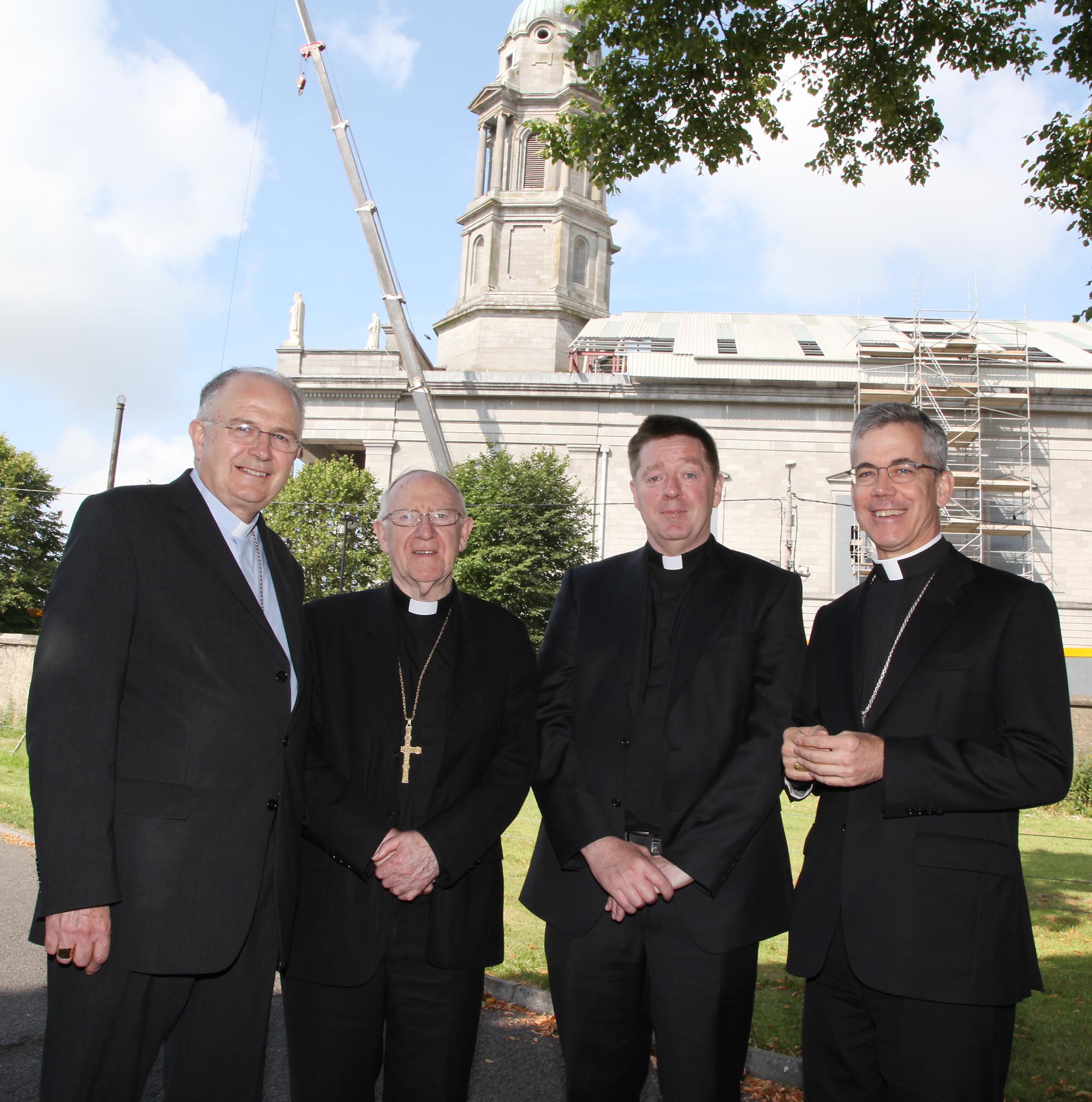 Pope Francis has appointed Father Francis Duffy, a 55 year-old parish priest from the Diocese of Kilmore, as Bishop of Ardagh and Clonmacnois. Father Duffy will succeed Bishop Colm O'Reilly who has been Bishop of Ardagh and Clonmacnois for the past 30 years.
The announcement was made simultaneously by the Vatican and the Diocese of Ardagh and Clonmacnois at 11am today, Wednesday 17 July 2013. The announcement was made on the steps of Saint Mel's College Chapel in Longford after 10am Mass.
Speaking at the announcement Bishop Colm O'Reilly said: "I am very happy to welcome the announcement today that Pope Francis has appointed Father Francis Duffy, a priest of Kilmore Diocese, to be the next Bishop of Ardagh and Clonmacnois. I am very grateful to the Holy Father for appointing him. Father Francis has a wide range of experience in ministry, as teacher, Secondary School Principal and Diocesan Secretary.  His current position in the Parish of Laragh adds, at first hand, an understanding of ministry in the parish context.  All this experience will stand him in good stead in his new ministry. After a time, in the celebration of Holy Mass throughout the Diocese we will get accustomed to praying for Francis, our Pope Francis, our Bishop!  May this coincidence of a name shared also be symbolic of the sense of new beginning which is felt in the Church worldwide and in a particularly joyful way in Ardagh and Clonmacnois."
In his own address Father Duffy said: " After my initial shock I accepted the Holy Father's invitation. In doing so I am acutely:  conscious of my unworthiness and of my limitations; conscious too of the weight of the historical significance of this wonderful diocese and its contribution to the life of the Church in Ireland up to the present day, but; I am confident in God's grace and in the prayers and the support of the people with whom I will work. I come from the diocese of Kilmore, from the parish of Templeport in County Cavan.  Kilmore is just north of Ardagh and Clonmacnois, sharing a border in counties Cavan and Leitrim.  The parishes of Ballymachugh, Gowna and Mullahoran are in Co Cavan.  So if I get homesick for Cavan I can always nip up there. Naturally I am sad at leaving my own diocese and the priests and people with whom I have worked for over thirty years most recently in the parish of Laragh.  However, I look forward to serving the people of God in the Diocese of Ardagh and Clonmacnois."
Welcoming the announcement Bishop Leo O'Reilly, Bishop of Kilmore said: "I warmly welcome the appointment of Father Francis Duffy of the Diocese of Kilmore as Bishop of Ardagh and Clonmacnois to succeed Bishop Colm O'Reilly. I congratulate Bishop Colm on completing a very long and profoundly pastoral ministry as bishop and I wish him a well-deserved rest from those labours and a very happy and healthy retirement. "
Cardinal Seán Brady, Archbishop of Armagh and Primate of All Ireland sent a message of congratulations to Father Duffy in which he said: "I have known Father Duffy for many years and I am confident that he has the gifts and qualities needed.  His experience in Catholic education, parish ministry and diocesan administration have shown his excellent ability to lead people by word and example and prepared him well for this day. I know for certain that he will have many prayers from the parishioners he has served, so generously and so often over the years and from many others as he takes up his new appointment."
A selection of images from this morning's announcement will be available shortly.
The full texts of all of the statements made this morning can be read at the following links:
Bishop Colm O'Reilly
Father Francis Duffy
Bishop Leo O'Reilly
Cardinal Seán Brady
Image above is an impression of what the interior of Saint Mel's Cathedral in Longford will look like once the restoration has been completed.