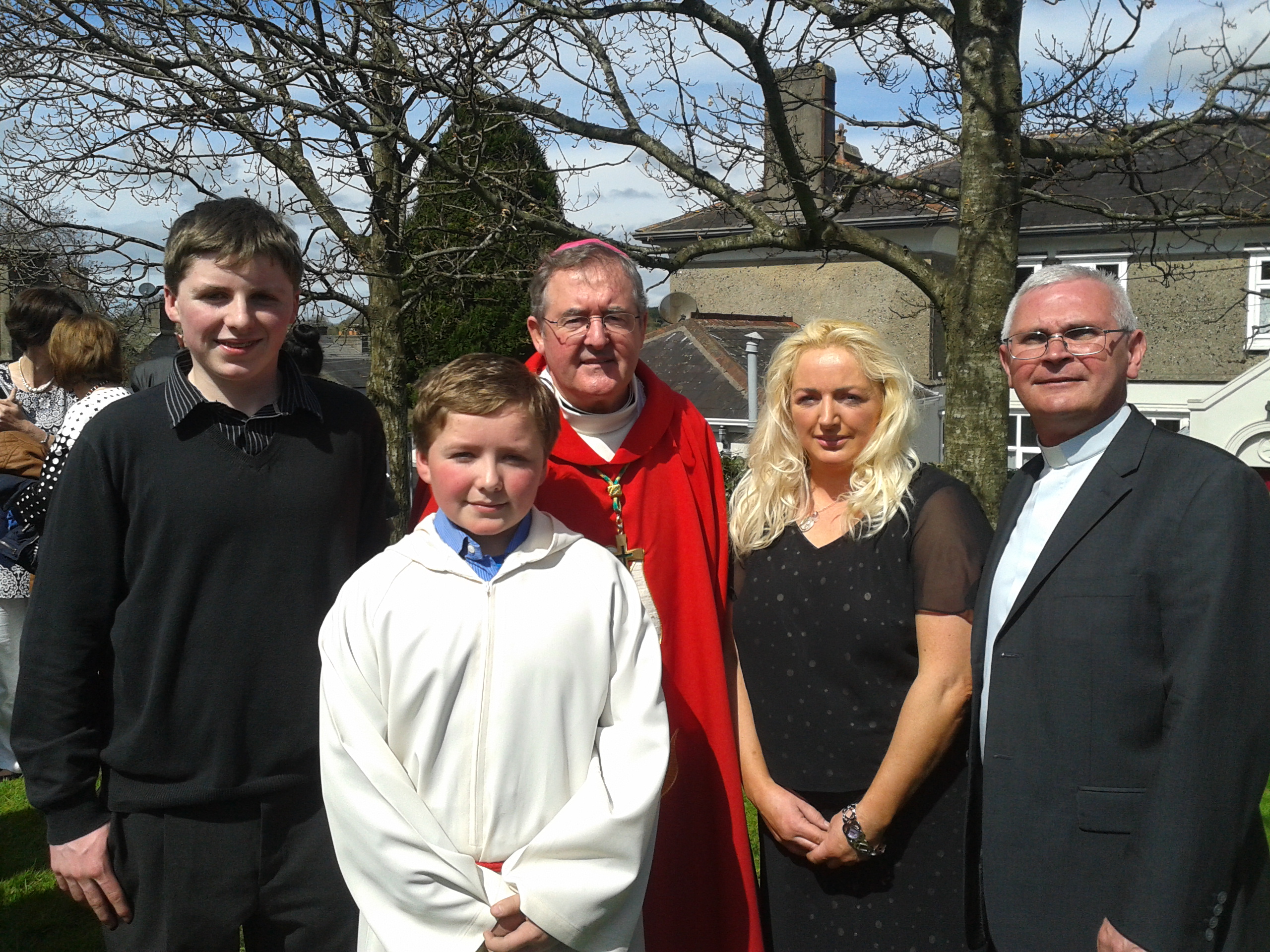 Photograph: Edmond Roche with his brother David, his mother Bernadette, Bishop Crean and Fr Aquin Casey, Administrator Fermoy, taken today on the occasion of the Fermoy Confirmations where Edmond received a blessing from Bishop Crean.
Two young people from the Diocese of Cloyne will travel to Rome this weekend to be confirmed by His Holiness Pope Francis.  Emily Mulcahy, aged 12, from Cobh, Co Cork, and Edmond Roche, also aged 12, from Fermoy, Co Cork, will take part in a Confirmation ceremony in Saint Peter's Square on Sunday 28 April.
Cobh altar server, Emily Mulcahy, got the surprise of her life a few weeks ago when she learned that she was to be confirmed at a Mass celebrated by the Pope Francis in Rome.  All her school friends in Saint Marys – and particularly those in Mrs Lane's sixth class – we are  absolutely delighted for her.  Emily's class received their Confirmation in the Cobh Cathedral on Saturday 13 April – a Mass celebrated by newly appointed Bishop of Cloyne, Bishop William Crean.  Emily received a blessing from Bishop Crean on that occasion.  Emily will be accompanied on her trip to Rome by her parents Paul and Margaret Mulcahy, her sister Sophie and her twin brothers Andrew and Luke.
When asked how she felt, Emily said that she was shocked at first that she had been so lucky to have had her name chosen.  The shock soon turned to excitement and then to delight – Emily is proud to be representing those from all the parishes within the Diocese of Cloyne who are receiving their Confirmation this year.  Emily said that the Sacrament of Confirmation means a lot to her – she has grown up in the Church and would like to continue to grow in the Church and her Confirmation is the next phase of her faith development.  Emily said that she has been attending Mass with her family since she was very young and she started as an altar server about two years ago.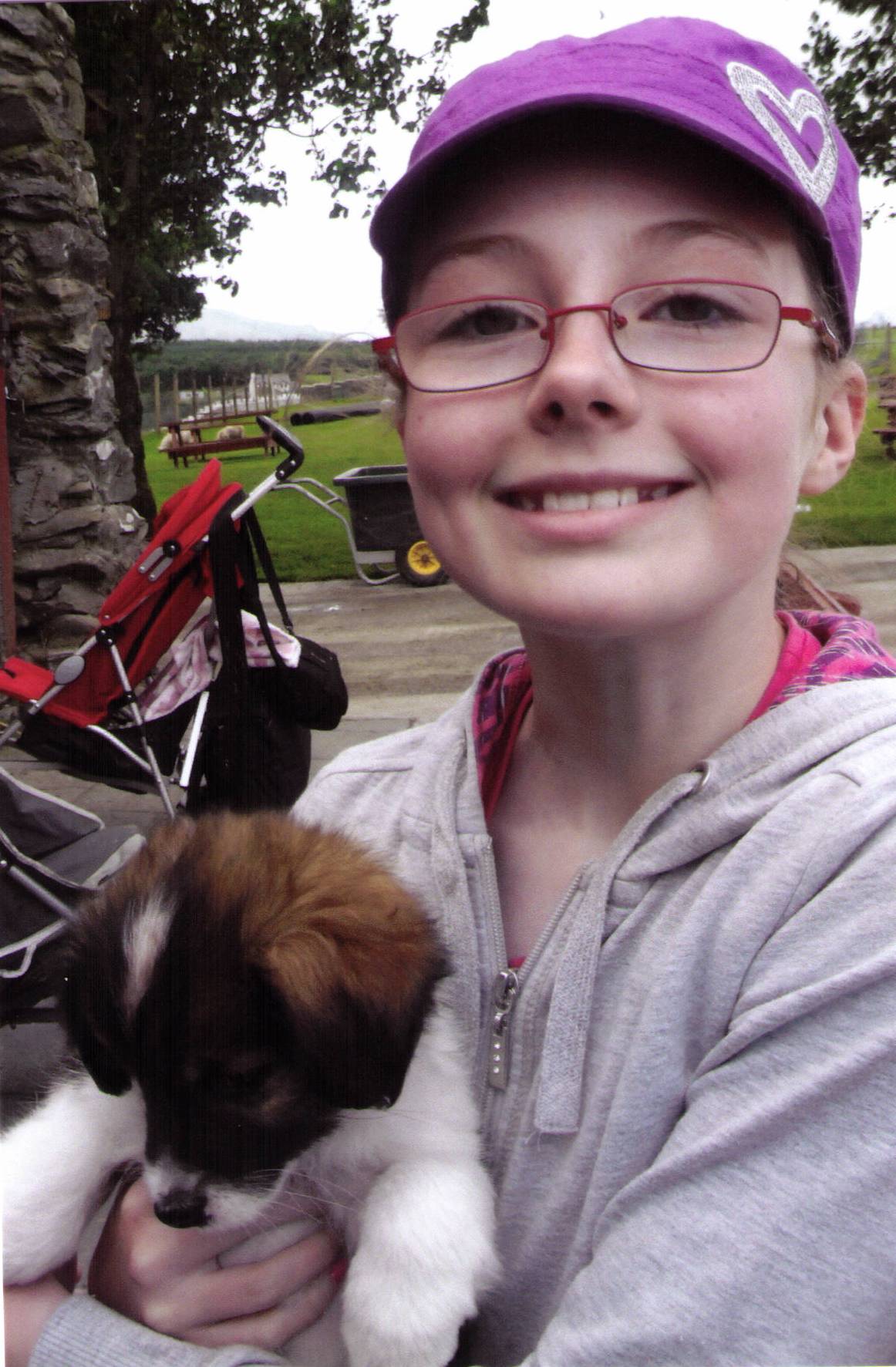 Photograph: Emily Mulcahy from Cobh, Co Cork 
Emily's parents are delighted with both their daughters contribution to the life of the Cathedral – Emily's sister Sophie is also an altar server.  They give of their time – particularly around Easter and other liturgical occasions within the Cathedral – practising and partaking in various events.  They hope that the girl's seven year old brothers might follow in their footsteps in the future.  Her parents expressed their sincere thanks to all those who have congratulated Emily and wished her well.
Edmond Roche is an altar server in Fermoy.  He lives with his mother and his older brother David who will be accompanying him to Rome.  Edmond attends sixth class in Gaelscoil de hÍde.  Edmond loves altar serving and taking part in Church activities.  He also enjoys music and plays the accordion.
Edmond  was really surprised when he heard he had been selected to be confirmed by Pope Francis.  He is hugely excited to be going to Rome, as are his family.  Edmond's classmates are being confirmed by Bishop Crean today in Fermoy.  Although he will miss taking part Edmond is absolutely thrilled to be going to Rome to be confirmed by Pope Francis.
Emily and Edmond are going to Rome in response to an invitation received by the Diocese of Cloyne to send a girl and boy to be confirmed by the Holy Father in a ceremony which is part of the Year of Faith celebrations.  The children and their families will be meeting with Bishop Crean in Cobh tomorrow at 5.00pm.
Bishop Crean said, "It is a fantastic opportunity for Emily and Edmond to be confirmed by our new Holy Father at this important stage in their lives.  Personally, I am delighted that they will be confirmed by Pope Francis who is making such a wonderful impression on the world.  It is a great honour for the Diocese of Cloyne to be invited to take part in this special ceremony."
ENDS
Note to Editors
Journalists/photographers are invited to be present for a photocall at the Cloyne Diocesan Centre Cobh on Wednesday 24 April at 5.00pm.
Cloyne was selected to represent Ireland by the Pontifical Council for the New Evangelisation.
The Diocese of Cloyne has 46 parishes and covers east, north and mid Cork.
Pope Francis will confer the Sacrament of Confirmation on a total of 44 people from around the world, symbolically representing the entire Church.
For media contact: Father Jim Killeen, Cloyne Diocesan Centre 00353 (0) 87 205 3938; Catholic Communications Office Maynooth: Martin Long 00353 (0) 86 172 7678 and Brenda Drumm 00353 (0) 87 310 4444