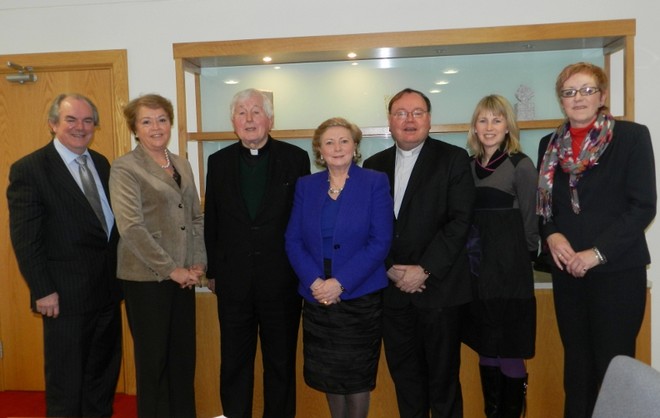 Joint statement by Minister Fitzgerald and Bishop Jones on marriage and family
A delegation from the Council for Marriage and Family of the Irish Catholic Bishops' Conference, led by Bishop Christopher Jones, met today (Friday 14 December) with Frances Fitzgerald TD, Minister for Children and Youth Affairs in her Departmental offices on Mespil Road, Dublin.
Key areas discussed:
–     The development of the new Child and Family agency which will be established by Government in 2013
–      The work of the Bishops' Council for Marriage and Family with a focus on Accord, the Catholic marriage care service.  In addition the meeting discussed the range of pastoral services that are provided by the Catholic Church to communities throughout Ireland.
In this context it was agreed that particular support for parenting and families would continue to be a priority.  The Church delegation placed a particular emphasis on strengthening and supporting marriage especially in the light of the current social and economic challenges facing people at the present time.
Bishop Jones expressed support for the focus given by Government to child and family services which is reflected in the establishment of a dedicated Department of Children and Youth Affairs.  He also welcomed the priority being afforded to child safeguarding.
Minister Fitzgerald recognised the necessity for a robust public dialogue, amongst all sectors in society, on social policy issues that affect families and communities.  The Minister acknowledged in this context the merits of adopting a greater strategic approach to family policy.
The Minister also emphasised the need for ongoing dialogue between Church and State in the service of the common good, so as to identify priority areas for service delivery, particularly given the current budgetary constraints which prevail.
Bishop Jones and Minister Fitzgerald agreed to meet again in the future to continue their dialogue on the optimal delivery of services to support family and marriage.
ENDS
                                                                                                                                                        Notes to Editors
The delegation from the Council for Marriage and Family of the Irish Catholic Bishops' Conference included: Bishop Christopher Jones, Bishop of Elphin and President of Accord; Mr Gerry Mangan, member of the Council for Marriage and Family; Ms Barbara Gilroy, Dublin Accord; Ms Trish Conway, Chair of the Irish Bishops' Drugs Initiative (IBDI); Father Peter Murphy, National Chaplain for Accord; Ms Breda Landy Horgan, Accord Central Office, Maynooth.
For media contact: Catholic Communications Office, Maynooth: Martin Long 00353 (0) 86 1727678; and Department of Children and Youth Affairs, Clare Heenan: 00 353 (0) 86 8036203