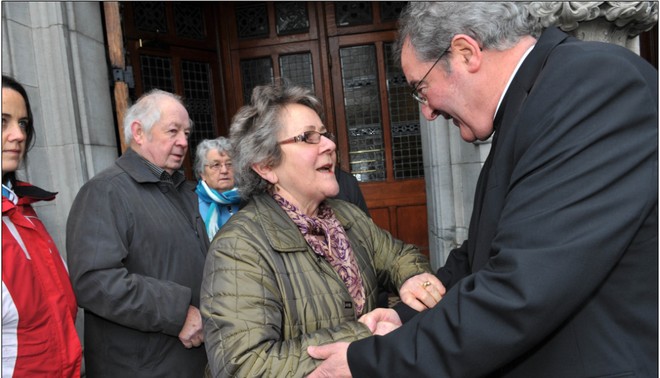 Saint Colman's Cathedral, Cobh, Diocese of Cloyne
A Phobail Dé,
Your Excellency, Archbishop Charles Brown, Papal Nuncio, Your Grace, Archbishop Dermot Clifford, Apostolic Administrator, my sisters and brothers in Religious life, my brother priests. Might I begin with my word of acceptance of the appointment to serve as Bishop of the Diocese of Cloyne by the Holy Father, Pope Benedict XVI.
Holy Father, it is with joy yet considerable trepidation that I learned of this appointment, by your Holiness, to serve as the Bishop of the ancient See of Cloyne. While conscious of my limitations, I humbly accept this appointment, to serve the Priests and People of Cloyne. I also asked the Holy Father for his prayer and blessing as I embrace this new mission.
My friends, I have been humbled by the measure of trust placed in me today. You will appreciate these last days have been a time to try to come to terms with this new reality. It means first that my ministry as Parish Priest in Caherciveen comes to an unexpected closure today. I want to gratefully acknowledge the wonderful support and shared service over the past years.
The outline story of my priestly ministry indicates that I spent almost twenty years in religious education and almost as long serving in various parishes. I have no illusions about the myriad challenges that the Church in Ireland faces. Yet I remain hopeful and steadfast.
Over these past years in Caherciveen we have regularly prayed the Prayer of Pope Benedict XVI for the Church in Ireland. Its fervent wish for the renewal of the Church in Ireland is my prayer too today.
"I came that they may have life and have it in abundance" (Jn 10:10), the Lord and Master assures us. Saint Paul in his unique experience came to understand the mystery of our life in Christ. Such was his sense of mission that he never tired. I am ever inspired by his crisp description of the aim of his missionary endeavours – it was ever his hope, wish, and desire to put "fresh heart into the disciples" (Acts 14:22). So that wherever he went he was fearless but full of conviction that the Grace of God would be sufficient acknowledging that his weakness would and could be the very instrument of God's Grace. I too share this Pauline vision on this day of new beginnings for the Church in Cloyne.
As I accept this appointment you will appreciate that I feel apprehensive – because I am deeply conscious of the trauma of these years past – so much suffering endured by young people at the hands of a few – sufferings compounded by the failure of those who didn't believe them and those who didn't hear their cry for help. Today I commit myself to do all that I can with others in the diocese to continue to bring healing and new hope to the lives of all victims of abuse and their families. One thing I ask, however, is your patience to allow me time to grasp the full measure of this deep hurt.
My friends, it is providential that we can gather on this day of festival to honour our Patron: Saint Colman. Saint Colman was the pioneer whose vision and faith has left us a rich living legacy of faith – not a moribund artefact of history but a living faith that enables us to engage constructively in the complexity of the market place and reflect fruitfully on the shifting sands of social norms.
We ask his intercession today and of Saint Gobnait too – to watch over and guide our new beginning.
A Cháirde, tá Gaeltacht bríomhar in ár measc. Cé nach bhfuil líofacht a dhotháin agam don ocáid seo inniú caith mé a rá go bhfuil mórghrá agam don dteanga, don chultúir agus don oidhreacht náisiúnta. Déinfidh mé gach aon iarracht tachaíocht a thabhairt chuig saol spioraldalta muintir Gaeltacht Muscraí.
A final word to my brother priests. I want only today to affirm your generous and faithful ministry to the people in your care. Today is a new beginning for all of us. I ask your prayer and fraternity as we seek together to serve the people and the Church in Cloyne. "May the Lord who began the good work in us bring it to completion" (Rite of Ordination of Priests).
Thanks to all of you for your gracious presence and your patient attention. Go raibh maith agaibh go léir.
ENDS
For media contact: Catholic Communications Office Maynooth including requests for photographs: Martin Long 00353 (0) 86 172 7678