Prisons Week 2012
Taking the Path of Life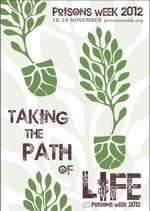 For over thirty years Prisons Week has prepared prayer literature to enable the Christian community, through individuals and churches, to pray for the needs of prisoners, their families, victims of crime and the many people who are involved in caring for prisoners.
This year Prisons Week is running from 18th – 24th November, 2012 and the title is 'Taking the Path of Life'.
The Christian life is often described as a journey, and we are the travellers or pilgrims on that journey. Our theme for this Prisons Week comes from Psalm 16:11, "You show me the path of life. In your presence there is fullness of joy; at your right hand are pleasures for evermore."
The Prisons Week Prayer
Lord you offer freedom to all people. We pray for those in prison. Break the bonds of fear and isolation that exist. Support with your love prisoners and their families and friends, prison staff and all who care. Heal those who have been wounded by the actions of others, especially the victims of crime. Help us to forgive one another, to act justly, love mercy and walk humbly together with Christ in His strength and in His Spirit, now and every day. Amen.
Ecumenical Service in St George's Church, High Street Belfast
Prison Week is held throughout England, Scotland Wales and Northern Ireland. The Prison Chaplains in Northern Ireland are holding an ecumenical service to pray for Prisoners, Victims, families of both Prisoners and Victims. This will be held this year in St. George's Church in High Street, Belfast on Wednesday 21st. November at 7.30pm.
A warm invitation is extended to all to join with all those involved in Prison Ministry and unite together in Prayer.
Father Stephen McBrearty.
Lead/Co-ordinating Chaplain Hydebank Wood
Further Information:
For more information and resources, see the website for 'Prisons Weeks 2012': www.prisonsweek.org.
Download brochure here (pdf)