100 Days for Global Solidarity: Become what you receive!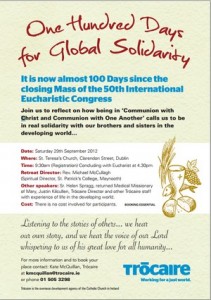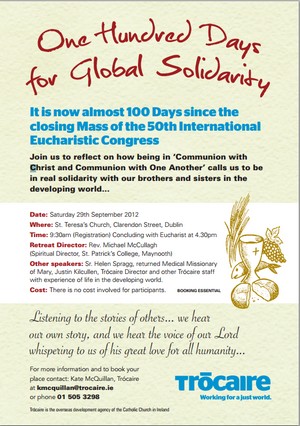 People are still talking about the International Eucharistic Congress!  This doesn't come as a surprise to anyone who was fortunate enough to be at the closing Mass in Croke Park or indeed at any of the Congress events in the RDS.
And the question on everyone's lips now, is 'How can we keep the spirit of the Congress alive in our hearts and in our Church?'  Here is a programme that is hoping to do just that!
Hundreds of people in parishes and communities up and down the country (and indeed across the world) are now receiving weekly prayer emails on the theme of the Congress; 'The Eucharist: Communion with Christ and with one another'.   These weekly prayer emails will culminate in a day of prayer and reflection at the end of September.
'One Hundred Days for Global Solidarity' was launched on the 17 June at the Statio Orbis in Croke Park.  For 100 days after the Statio Orbis, pilgrims (and others) have been receiving weekly prayer emails on the theme of the Congress and how that theme connects us to the stories of people living overseas in some of the poorest countries in the world.  We hope these prayer emails are helping participants in this programme to answer the challenging question posed by our Holy Father Benedict XVI's, 'is it possible to love the person you have not met?'
So far with these prayer emails we have explored the challenge of climate change for Laurinda Meletche, an 80 year old widow in Mozambique, and we have looked at the work for peace by Bishop Macram Max Gassis of South Sudan.  We have also met HIV positive mothers and their babies and heard some moving stories of hope.  Each week, we walk with one another in prayer for a few minutes and in doing so, demonstrate in a very real way how we are called to be in Communion with one another in our world.  The feedback received has been brilliant with hundreds of people across the country now praying these prayers together.  These are people who were pilgrims at the Congress but also many others who weren't there but would like to get a flavor of the Congress by becoming part of this praying 'on-line' community.
Finally, we are inviting participants who have been praying with us for these 100 Days to join with us for a day of reflection on Saturday 29th September.  Inspired by the same Spirit that inspired the Congress, we will reflect together on the Congress and how it has been and is inspiring us all for these 100 days.  This day of reflection will be a chance for people to reconnect with one another and with the energy of the Congress.  It will be a chance to meet other people of faith and to be feed not only at the table of the Eucharist but it will be also a chance for us to share our stories and to hear in a new way the stories of our brothers and sisters in the developing world.
To register your interest in attending the event on 29 September, or to sign up for the remaining 100 Days for Global Solidarity emails, contact Kate McQuillan/Hannah Evans on 01-6293333.