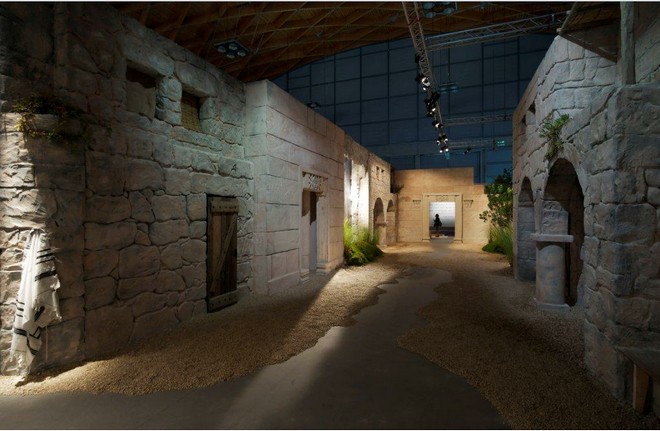 50th International Eucharistic Congress Reveals the 'Through the Eyes of the Apostles' Exhibition
Pilgrims will have an opportunity to travel back in time at an exciting exhibition at the 50th International Eucharistic Congress (IEC2012) which will be hosted in Dublin from 10 – 17 June.
This three dimensional exhibition titled 'Through the Eyes of the Apostles: Life Overwhelmed by a Presence' will transport visitors to Capernaum, the village on the shores of the Sea of Galilee where Jesus lived during His public ministry. The sensory rich reconstructed surroundings will include the smell of the trees and the sound of the lapping of waters. It will allow the visitor to walk in the Apostles footsteps and truly experience what it must have been like at this pivotal moment in history.
Writer, John Waters, a key speaker at the Congress, who saw the exhibition last year in Rimini, described feeling: "impossible not to be moved, impossible not to be transported. For what I felt was that suddenly I had been embraced in something involving a collapsing of time and space. History was foreshortened and the past 2,000 years became irrelevant. I was in Capernaum. I had returned to the centre of history. 'Is He here?' I found myself wondering. Is He here?"
This exhibition relives what happened when Jesus arrived in Capernaum and what those people witnessed. It documents several key elements of His ministry; the waterfall at which John the Baptist baptized Jesus; the village, Capernaum, a reconstruction of the house of Peter, where Jesus stayed at an early stage in his public life; the locations in which Jesus spoke; and finally, the location of the Resurrection.
Further information:
•    Aisling Harmey, Media Relations Manager, 50th International Eucharistic Congress 2012, Tel: 00353 (01) 234 9903,  Mob: 00353 (0) 87 137 2447    Email: [email protected]
•    Mark Linehan, Media Officer, 50th International Eucharistic Congress 2012, Tel: 00353 (01) 234 9927   Email: [email protected]
Notes for Editors:
•    The 50th International Eucharistic Congress 2012 will take place in Dublin from 10 – 17 June 2012 with up to 25,000 pilgrims expected to attend each day at the RDS, including 12,000 international pilgrims representing more than 102 different countries.
•    IEC2012 will transform the RDS into a Eucharistic Village for an eight day festival of faith and culture. The Eucharist will be celebrated in the Liturgy and adored in the Prayer Space.
•    The Congress is an international gathering of people, held every four years somewhere in the world, which aims to promote an awareness of the central place of the Eucharist in the life and mission of the Catholic Church; to help improve our understanding and celebration of the liturgy and to draw attention to the social dimension of the Eucharist. These aims are achieved through a programme of pastoral preparation in the years leading up to the Congress and a programme of liturgical and cultural events, lectures and workshops over the course of one week.  Previous Congresses took place in Quebec (2008) and Guadalajara (2004)
•    The theme of the Congress is 'The Eucharist: Communion with Christ and with one Another' (Communion – like Solidarity – means a relationship of mutual love and self-giving).
•    On 17 June, more than 80,000 people are expected to gather and celebrate Statio Orbis, the Final Mass, of the 50th International Eucharistic Congress 2012 at Croke Park Stadium.
•    There are a total of 223 keynote speakers as part of the IEC2012 programme of events, which includes 38 speakers in the main arena delivering Catechesis (teaching), personal testimonies, homilies and addresses.
•    A total of 144 presenters will deliver workshops during Congress week
•    There are 41 speakers delivering addresses at the Chiara Luce Youth Space for young people between 17 and 25 years old.
•    A total of 160 workshops including talks, addresses, group reflections, meetings, concerts and plays
•    The full programme is available at: http://www.iec2012.ie/programme
•    For more information: www.iec2012.ie
•    Registration for the Congress is now live on http://www.iec2012.ie/registration
Ends