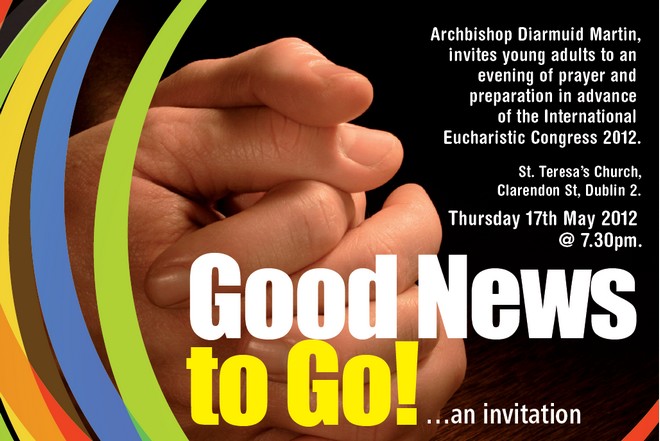 Good News To Go! is an initiative of the Office of Evangelisation and Ecumenism. (Planning was also assisted by collaboration between CYC, Carmelites, Magis Ireland, parish pastoral workers and young people).
Similar to World Youth Day it will incorporate prayer, catechesis (reflection on faith) led by Archbishop Martin and an opportunity for a time of questions on matters of faith. Young people aged 16+ are being invited from parishes, prayer movements. Everyone is being invited to "like" Good News to Go! on Facebook. This particular site will provide a mechenism of reaching out to young people in the Archdiocese. Reflections on faith, prayer and events will regularly be posted, inviting young people to gather at this years International Eucharistic Congress. It is intended that Good News to Go will resume again in September, helping to provide regular gatherings of young people who want to learn more about their faith, with their peers. Throughout the summer, young people who will attend faith based events will be invited to participate in GNTG. Young people heading to Lourdes with the Archdiocese in September will also be invited to Good News to Go!Young people have been invited by Archbishop Martin to gather with him on Thursday evening in St. Teresa's Church, Clarendon St, Dublin 2 @7:30 pm.
View the poster for Good News to Go here.