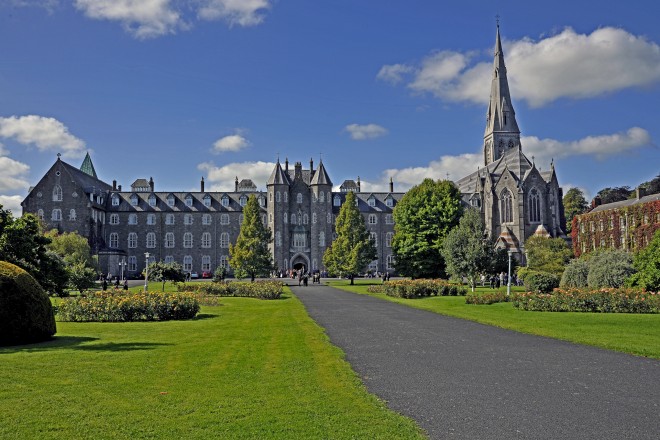 Theme for Symposium: 'The Ecclesiology of Communion Fifty Years after the Opening of Vatican II'
Theology Symposium, 50th International Eucharistic Congress 2012, hosted by the Faculty of Theology,  St Patrick's College Maynooth, 6-9 June  2012
What does it mean to say that the Church is a communion and how does this relate to other themes such as the Eucharist, and Reconciliation, the Family, the Priesthood, Ecumenism, Evangelisation and Mission and Economics and Irish Christianity?
How has our understanding of this important idea developed since the Second Vatican Council?
The International Theology Symposium, which takes place the week before the Eucharistic Congress will provide an opportunity to discuss these questions. The Symposium is open to those with a qualification in theology. According to Rev Professor Brendan Leahy, one of the organisers of the Symposium: "The Theology Symposium will explore the vision behind the Ecclesiology of Communion of Vatican II and consider the questions that arise. As an international event, the symposium will be enriched by expert contributions from international scholars across the disciplines of theology: Scripture, Systematics, moral Theology, Liturgy, Pastoral Studies, Missiology and Ecumenics."
To view the Conference Programme, please click here.
The Papal Legate for the 50th International Eucharistic Congress, Marc Cardinal Ouellet, who is head of the Vatican Congregation for bishops and former Archbishop of Quebec (the diocese that hosted the last Eucharistic Congress), will give the keynote opening address on the first day of the Symposium. Kurt Cardinal Koch, President of the Pontifical Council for Christian Unity, will present on the topic of The Church as Communion, Ecumenism and the Eucharist. Oscar Cardinal Rodriguez will also address the gathering on the topic of Mission and the Eucharist.
Professors Salvador Ryan, Brendan Mc Convery from Maynooth and Jennifer O' Reilly (formerly UCC) will present on "The Eucharist, Communion and the People in Irish Christianity." Dr Martin Stufflesser (Würzburg) will speak on the theme of Eucharistic Ecclesiology and the Liturgy; Prof Brian Johnstone (CUA) on the "Sacraments as gifts of the rising Christ" and Dr. Clare Watkins on "Living Eucharist in the Family Today". Irish theologians will also be presenting including Dr Dermot Lane on the theme of the "Eucharist and Eschatology"; Fr Michael Drumm (Irish Catholic Schools Partnership) on "Being Educated in Communion"; Prof. Thomas Norris (Maynooth) on the "Reception of the Ecclesiology of Vatican II and the Marian profile of the Church" and Prof. Eamonn Conway (MIC, Limerick) on "Being a Priest in a de-traditionalised cultural context". Dr Geraldine Smyth (Irish School of Ecumenics) and Robert Enright (Wisconsin-Madigan) will present on "Becoming Eucharist for One Another through Forgiving."
Other topics and themes are listed in the Programme to be found at the web address below. The lectures will be simultaneously translated into Italian.
In light of the Eucharistic Congress, the Symposium promises to be an important event for theology and for the Church in Ireland at this time.
For Registration online see: www.iec2012.ie/theologysymposium
Registration Enquiries: +353-1-2981122
Programme Enquiries: +353-1-2249900