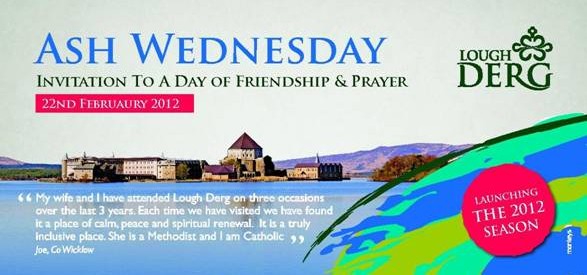 'Lough Derg-you just gotta do it' – Lough Derg Launches their Biggest Ever Season
Lough Derg is excited to launch their most extensive Season to date with a day of celebration…a Day of Friendship and Prayer on February 22nd, 2011. This year the Guest Speaker will be Brother David Jardine, a Church of Ireland clergyman and a member of the Society of St. Francis, a religious community in the Anglican Church. He is former chaplain of Belfast's Crumlin Road Prison and also spent a few years in the late 1980's ministering in New York. Along with a few other clergy, David founded Divine Healing Ministries in 1992. Since then they have, on an interdenominational basis, been praying for the healing of individuals and our land.   This is the seventh time such a day has been held: last year over 400 people attended this remote Donegal Island…. a sure sign that people are seeking opportunities to celebrate not what divides them but what they have in common.
Ash Wednesday's theme is 'Forgiveness. This day, for Christians of all denominations will be the first of many events that Lough Derg will offer to people this season as they launch their biggest programme ever; these include retreats such as Care for Carers, Senior Citizens Afternoon Outing, Mother & Daughter Retreat, as well as Parent and  Child retreats. Lough Derg regards this type of outreach as vital to their ministry, emphasising the message that the Sanctuary belongs to all of us and truly is a place of welcome for everyone. Lough Derg's theme for 2012 is 'You just gotta go'-this special day is the first of many days where you will be made very welcome whatever your background.
Hope is a word we all could be doing with seeing more of these days – switch on the news any day and all we hear are stories of governments collapsing, loss of jobs, civil unrest, and natural disaster. 2012 sees Lough Derg's message of Bringing you the Gift of Hope as perhaps a little shaft of light for all of us.
Bishop Liam McDaid, will be in attendance and when asked about the upcoming event, he commented: 'Another year, another skyline!  This year's is clouded over with stories of economic problems and concerns.  All the more reason for us to come together in supportive friendship and prayer.  We Christians believe that the directions given to us by Jesus Christ point the way to answers to our problems and to the goal of all our journeying.'
Recognising that change can only start with small steps, regular pilgrims, as well as those who have never been, are invited to the Island on Ash Wednesday, 22nd February, with a friend from another Church, to experience the sanctity and peace that Lough Derg offers to all.
In talking to the Prior, Brother David  said '.I feel it is a great privilege to be asked to speak at Lough Derg on Ash Wednesday. The theme I feel guided to speak on is forgiveness, which when we practice it helps us to ifnd God's peace'. It is theme which no doubt will resonate with all who come to Lough Derg.
Lough Derg, despite its history of persecution and struggle has survived 1500 years – surely that is a message of Hope in itself – not many Irish institutions can make that claim. In these gloomy times they are aware they can play an important role in helping people through this darkness; more than that, they feel compelled to act as a catalyst or agent for change, to urge people to cast aside difference and come together and share this sacred sanctuary of prayer with friends from other Christian traditions.
Lent traditionally brings different responses from each of us, for many it brings more dark thoughts….the all too familiar groans, 'Oh no don't tell me that I have to give up something again this year'. Let 2012 be the year that Lent is more about an opportunity for spiritual reconciliation, a time to look at our relationship with God, our families, and our neighbours. Don't let this wonderful and important time of year pass you by – more than ever we all need to look inside-whether that's our governments, our families, ourselves. Lent allows us to maybe catch a glimpse of the great message of Easter through the dark clouds.
Prior of Lough Derg, Monsignor Richard Mohan and Manager of Lough Derg, Deborah Maxwell, a Presbyterian from Castlederg extend a warm welcome to all.
For more information, contact Deborah Maxwell, Manager [email protected]          www.loughderg.org
ENDS
Notes to Editors:
Event details:
DAY OF FRIENDSHIP & PRAYER
Lough Derg, Pettigo, Co Donegal
Ash Wednesday, 22 February 2012
GUEST SPEAKER:
Special Guest Speaker: Brother David Jardine is a Church of Ireland clergyman and member of the Society of St. Francis, a religious community in the Anglican Church. He is founder member of Divine Healing Ministries, an interdenominational group praying for the healing of individuals and of our land
Also in attendance – Bishop Liam McDaid of Clogher Diocese, The Prior, Monsignor Richard Mohan and other church leaders
Boats will run from 10.30am.
Bishop Ken Clarke will give the address at 12noon; this will be followed by lunch (soup and sandwiches).
After lunch you will have time to explore and experience the tranquillity of the Island.
Suggested donation: €20 includes refreshments and light lunch.
Please confirm your attendance: T: 0719 861 518 or 02868 632 391 (NI),
or  E: [email protected]