Archbishop Neary appoints Father Richard Gibbons as the new Parish Priest of Knock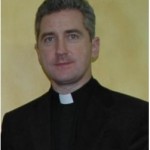 Archbishop Michael Neary, Archbishop of Tuam, has appointed Father Richard Gibbons (pictured below) as the new Parish Priest of Knock in succession to the late Monsignor Joseph Quinn, RIP.
Archbishop Neary said, "the appointment as Parish Priest of Knock is a very demanding position, and one that requires great spiritual, pastoral and administrative skills and sensitivity.  I have every confidence that Father Richard has all the capabilities and talents to meet this busy and challenging role."
Archbishop Neary continued, "On behalf of the faithful of the Archdiocese of Tuam I offer my blessings and best wishes to Father Richard as he embarks upon his new ministry as parish priest and spiritual leader of the National Shrine of Our Lady at Knock."
ENDS
Notes for Editors
•    Father Richard Gibbons
Father Richard Gibbon was born in October 1969, a native of Louisburgh, County Mayo.  He was educated locally at primary and secondary level and obtained degrees in Arts and Law in the National University Ireland, Galway, before starting his studies for the priesthood.  He studied philosophy and theology in Rome and was ordained in 1999.  Father Richard undertook post-graduate studies in Rome from 1999-2000.  In 2000 he was appointed curate in Headford and chaplain to the presentation secondary school there.  While in Headford Father Richard obtained a Higher Diploma in Education from NUIG.  In 2003 Father Richard was appointed curate to Our Lady's Shrine, Knock, and has ministered in Knock until his appointment as Parish Priest.
•    Eucharistic Congress
As part of the Catholic Church's preparation for the 50th International Eucharistic Congress which will be held in Dublin from 10 – 17 June next, Ireland's National Eucharistic Congress was held at the Marian Shrine in Knock over 25 and 26 June in 2011.  Archbishop Neary read out an Apostolic Blessing from the Holy Father Pope Benedict XVI as part of the celebration.  All 26 dioceses on the island of Ireland were represented at the National Congress by the estimated 13,000 pilgrims who attended.
•    Knock Shrine
Each Irish diocese makes an annual pilgrimage to the Marian Shrine and the nine-day Knock novena attracts ten thousand pilgrims every August.  The story of Knock began on the 21 August 1879 when Our Lady, Saint Joseph and Saint John the Evangelist appeared at the south gable of Knock Parish Church.  This miraculous apparition was witnessed by fifteen people, young and old.  Knock is an internationally recognised Marian Shrine and was visited by Blessed John Paul II as part of his 1979 papal pilgrimage to Ireland.  During his visit – which coincided with the Shrine's centenary year – the late pope celebrated Mass at the Shrine and addressed the sick, their helpers and pilgrimage directors.  Archbishop Michael Neary is the custodian of the Marian Shrine. Please see: www.knock-shrine.ie
Further information:
Archdiocese of Tuam 00 353 (0) 93 24166 and the Catholic Communications Office, Maynooth, Martin Long 00353 (0) 86 172 7678