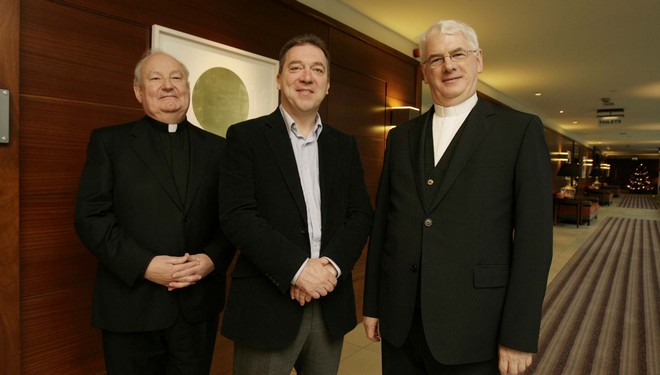 Opening address by Bishop Noel Treanor, Chair of the Episcopal Commission for International and Social Issues
The annual joint meeting of the Irish Catholic Bishops' Council for Justice and Peace with the Northern Ireland Catholic Council for Social Affairs took place in the Ballymascanlon House Hotel near Dundalk, Co Louth, on 26 November 2011.  Addressing the meeting were Bishop Noel Treanor, Bishop of Down and Connor and chair of the Bishops' Commission for International and Social Affairs; PSNI Chief Constable Matt Baggott who spoke on faith and policing; Father Seán Healy and Sister Brigid Reynolds of Social Justice Ireland who discussed fairness/justice and the common good; and Bishop Raymond Field, Chair of the Council for Justice and Peace.  Please see address of Bishop Treanor below:
"As we approach the second anniversary of the publication of the Murphy Report, I want to acknowledge the impact of the findings of such reports on the wider Church community … It is also important to state that as bishops, as human beings, we too know and experience that anger, that disappointment, that bewilderment and pain in our struggle to provide listening and leadership through this time of enormous challenge" – Bishop Treanor
Thank you, Nicola, for your kind words. I welcome and thank all of you for being here this morning. I realise many of you have travelled a long distance and it is also a Saturday morning, a precious time for us all at the end of a busy week. As Christians that week began with the feast of Christ of King. The preface of that feast reminds us of the principal activity and call of Jesus among us, to present to the Father 'a kingdom of truth and life, a kingdom of holiness and grace, a kingdom of justice, love, and peace.' Your presence here this morning reflects your exceptional commitment to that mission, which is behind all that we do – and I thank you for that! It's worth noting that as we meet here today, many French Catholics meet this weekend in Paris for the 86th Semaines Sociales de France to explore old and new dimensions of democracy – the theme being " Démocratie, une idée neuve".
As Nicola said, I am here in my capacity as Chair of the Episcopal Commission for Social Issues and International Affairs of the Bishops'
Conference. This is the 'Commission' through which the Council for Justice and Peace and NICCOSA make recommendations to the General Meeting of the Bishops' Conference.
We are also joined this morning by Bishop Raymond Field. As you know, Ray is Chair, in fact, he is the founding member of the Council for Justice and Peace. Ray will address us at the close of today's event, but I want to take this opportunity to thank him publicly for his enormous energy and commitment to the work of the Council and through the Council to the mission of Episcopal Commission for Social Issues and International Affairs.
I also want to take this opportunity to thank Cardinal Seán Brady for his dedication and commitment as Chair of NICCOSA. Cardinal Seán established NICCOSA eight years ago to deal with issues specific to the North of Ireland. I know he is very sorry he can't be here this morning, but he has asked me to pass on his good wishes to our guest speakers and to the members of the Councils and others present. He has also asked me, in his own words, 'to convey his thanks for the immense contribution you make to the life of the Church at an exceptionally challenging time for the whole community of faith and for our society'.
In that context I would like to acknowledge in particular the profound challenges that confront us as a Church as a result of revelations of the abuse of children and the dramatic failure to respond to that abuse in an appropriate way. Few things could be more inimical to the Kingdom of Jesus Christ than the harm of those Jesus himself put before us as 'the little one's', those who are most vulnerable among us and often the most trusting of us. Few things deserve more shame than the failure to respond to the abuse of children and the vulnerable among us in an appropriate way. While immense strides have been made to address the failings of the past, as we approach the second anniversary of the publication of the Murphy Report, I want to acknowledge the impact of the findings of such reports on the wider Church community. I want to acknowledge that for you who give so generously of your time, talents and expertise to the work of the Bishops' Conference such reports have presented real and often very personal challenges to motivation and confidence. I want to thank you for staying with us through these very challenging times.
It is critical that we continue to dialogue, reflect, pray and discern together, as a community of faith, from the very place of our anger, disappointment, disillusionment and pain if we are to travel the long road of purification, healing and renewal. It is also important to state that as bishops, as human beings, we too know and experience that anger, that disappointment, that bewilderment and pain in our struggle to provide listening and leadership through this time of enormous challenge.
So thank you again for your perseverance and commitment. In the midst of the inevitable frustrations and challenges I hope we can continue to make a real contribution to the wider journey of renewal of the Church in Ireland that lies ahead.
A vital part of that journey will entail identifying and inviting into active participation the immense range of gifts and talents present among the people of God. And it is in that context that I would like to express our particular thanks to the new members of both Councils who have joined us in the past year. I also extend a very warm welcome to the Diocesan Representatives for Justice and Peace who are joining us here for the first time. This is only the second joint meeting of both Councils. At the meeting last year it was agreed that links with those working on Justice and Peace issues at diocesan level are vital if we are to have an integral, vibrant and coherent engagement with the challenges of Justice and Peace in the day to day lives of citizens across our island: so a very warm and special welcome to our new members and to diocesan representatives. We look forward to strengthening the connections between the Councils and Diocesan Justice & Peace groups during the coming year.
Our meeting today reflects the reality that while the Catholic Church in Ireland is organised on an all-island basis, it engages with the social and political contours of two distinct jurisdictions. While each jurisdiction has its own particular character, the convergence of interest along cultural, social, economic and political lines is becoming more and more important. This is nowhere more evident than in the interdependence of both economies on the future administration of the property market by NAMA and with our shared interest in the lending capacity of the four largest banks. On the cultural-political level, it is reflected in the dramatic, for many, unimaginable improvement in relationships on both a North-South and an East-west Axis. This was nowhere more evident than in the success of the historic visit of Queen Elizabeth II to the Republic of Ireland in May, an event which marked a fundamental shift in relationships across the island and between these islands. It also represented a further liberation from a stagnant view of history to one shaped and moulded by the endless horizons of human imagination for peace and new possibilities. The territory of peace and new possibility is the very territory of the Kingdom itself which we have already identified as our primary mission as Christians. It is the territory of hope. It is the territory of engagement with others in the outworking of the common good.
It is this spirit and with this project in mind that I am particularly delighted to welcome our guest speakers here today. They have been deliberately chosen to reflect that growing convergence of interest between the two jurisdictions on our island as well as key themes and issues that have been a priority in the work of both the Council for Justice and Peace and NICCOSA.
So, on your behalf I would like to first of all welcome the Chief Constable of the Police Service of Northern Ireland, Mr Matt Baggott and his colleague, Assistant Chief Constable Will Kerr. We are immensely grateful to you both for taking the time and making the journey to be with us here this morning. The safety of individuals and communities, the need for a service which polices the rights of citizens and is accountable to them, is fundamental to the well being and progress of every society. It is vital that we unite as citizens in our support of those who are serve us in this particular vocation.
It is also vital that as citizens, North and South, we challenge all those who threaten the democratically mandated and widely supported police service that has been evolved in Northern Ireland in the ten years since the PSNI was established.
I want to take this opportunity to appeal to all members of the Catholic community, North and South, to all members of the Catholic community in Britain and the rest of the UK to support the work of the Police Service of Northern Ireland by encouraging Catholics and others to consider serving the peace we have achieved by becoming members of the PSNI. While we are disappointed at the premature removal of the special 50:50 recruitment measure, it is important that Catholics, women and men in the Gardai and in Police Services across the UK consider applying for positions in the senior ranks of the PSNI where Catholics continue to be significantly under represented.
I am sure the symbolic significance of the Chief Constable of the PSNI coming to Dundalk, to address an all-island meeting of Catholic Church groups working for Justice and Peace, will not be lost on anyone. I would like to pay tribute to the courage of the Chief Constable and his colleagues in being here today. I should like to commend him also for his unapologetic profession of Christian faith as part of the conviction from which his service of society as a police officer derives. It is refreshing to find someone in public life in Ireland who does not see a contradiction between the profession of personal faith and public service of the common good in a diverse, pluralist and tolerant society. As we search for a more authentic accommodation of diversity on our island, I think we need to reflect in a more calm and mature manner on the false dichotomy between faith and public life.
It is in that context that I would also like to welcome and thank in anticipation the first of our two sets of speakers today, Fr Sean Healy and Sr Brigid Reynolds of Social Justice Ireland. In this particular setting Sr Brigid and Fr Sean need little introduction, but I think it would be fair to say that their work in analysing the social and economic policies of successive Irish Governments against the values of justice and the common good are well and widely recognised. They have rightly won great respect and great praise for the very professional, rigorous and objective manner in which they approach this vital work. It is a valued and also an essential service of the community of Christian faith to the social and political arena.
Their presentation to us today could hardly be more timely and, perhaps more than ever before, has its own north-south dimension.
Our meeting takes place against the backdrop of significant policy decisions which will have a decisive impact on society North and South. The draft Programme for Government in Northern Ireland has just been published (little over a week ago) and we are just over a week away from the announcement of the content of Budget 2012 in the Republic. Of the many concerns we have at the present time would highlight two in particular: child poverty and the situation of the unemployed.
As has been highlighted many times through the work of NICCOSA – particularly its 2010 publication Challenging Poverty in Northern Ireland, the rate of child poverty in the North is more than double the UK average. We welcome the commitment in the new Programme for Government to the drafting of an action plan on child poverty and we stress that this action plan must contain clearly defined and measurable targets in order to ensure that our policies are moving us in the right direction – towards the eradication of this injustice which places so many of our citizens at a disadvantage from the very beginning of their lives. Investing in the well being of our children means investing in the future of our society. With this in mind we would strongly urge the Dublin Government to ensure that current levels of child benefit – a vital lifeline for so many families – are maintained in the forthcoming budget. Reducing crucial supports will drive thousands of children into poverty and place increasing pressure on struggling parents – the long-term costs of such a policy will far outweigh any short-term gains through reduction of the deficit.
Unsurprisingly, there is renewed focus on benefits and social welfare rates on both sides of the border. Unemployment is, without doubt, a priority area for attention – the costs are not merely financial – unemployment can impact on a person's mental and physical health, their sense of self-worth and, by extension, on the lives of those around them. But our unemployment problem will not be solved by cutting vital supports to those without work, particularly when there is such a serious shortage of available jobs and opportunities for education and training. Unemployment levels in the North are at their highest since the signing of the Good Friday Agreement with almost half those unemployed for a year or more, while in the Republic over 14% of the population is classified as unemployment. Increasing numbers of young people across the island are being forced to emigrate, devastating families and communities. This is not to say that there is no room for reform of the social welfare/benefit system.
It is important that people are incentivised to work, but it is equally important to ensure – not only suitable work is available for them to take up – but also that they are not prevented from working by "poverty traps" which result in their income dropping as a result of taking up employment.
There is a need for all of us to ensure that our policy makers work to protect the common good. That focus is at the heart of our discussions today. It is the backdrop to our publication of the statement 'A Call to Action in Times of Crisis' about which Bishop Ray will speak later today. It is also at the heart of an important document on the Social Market Economy in preparation by COMECE. This document will be published in coming weeks and NICCOSA have undertaken to organise a key event to encourage wider discussion of its theme and contents. We look forward to that. It will constitute a further springboard for our respective Councils and groups to take up the urgent task of educating ourselves and our fellow citizens regarding the vital issues of global governance, shared government of a global political society as set out in the recent document, Towards Reforming the International Financial and Monetary Systems in the Context of Global Public Authority  of the Pontifical Council for Justice and Peace. That document asserts what we all know in our hearts : "If no solutions are found to the various forms of injustice, the negative effects that follow on the social, political and economic level are destined to create a climate of growing hostility and even violence, and ultimately undermine the very foundations of democratic institutions, even the one considered the most solid". It calls us to work at advancing to understanding the need for and a new "rule of law" on the supranational level … to a new model of a more cohesive, polyarchic international society that respects every people's identity within the multifaceted riches of a single humanity".
Over the past year much has been accomplished by both Councils (NICCOSA and CJP). Many issues and needs continue to invite and require our attention. As we reflect on how, with our limited resources, we might best respond to those needs in light of the Gospel, how we might fuel a "forward-looking imagination", (Pope Paul VI, O.A. 37, cited in aforementioned document) championing the primacy of the spiritual, of ethics and of politics over finance in the current critical setting, I thank all of you again for your commitment and presence. I invite Dr Ethna Regan to now lead us in commending all that we do today and in the future into the care and direction of the God whom we strive to serve.
ENDS
For further information contact the Catholic Communications Office, Martin Long 00 353 861727678