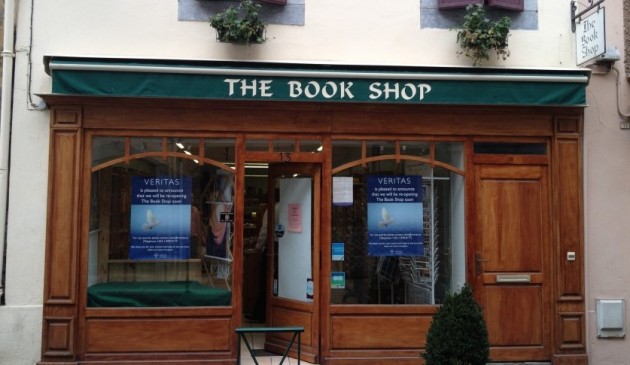 Veritas, Ireland's leading religious publisher and retailer, plans to open a new store in 2012 to be based in the town of Lourdes, France.  The Lourdes store will be the eleventh retail outlet in the Veritas retail network and the first to be located outside the island of Ireland.  The new store is opening where the former "The English Bookshop" had operated for many years on Rue De Bourg in the heart of the town.
Announcing this expansion Veritas Director Ms Maura Hyland said, "This is an exciting development for Veritas.  The recession is proving to be hard on all retailers and publishers but we are particularly keen to reach out to new markets.  Lourdes is the destination for one million English-speaking pilgrims each year and Veritas hopes to be in a position to provide these pilgrims with English language resources to help make their pilgrimage more meaningful and memorable.  In addition the strong Irish connection with Lourdes goes back generations.  The first Irish pilgrimage visited Lourdes in 1913.  Most Irish people either have been to Lourdes themselves or know someone who has undertaken this wonderful pilgrimage.  Veritas will offer visitors to our store in Lourdes books on prayer, spirituality, the Sacraments, scripture, liturgy as well as publications on Our Lady, Saint Bernadette and on Lourdes itself as a pilgrimage destination.  We will also stock religious artefacts such as rosary beads, statues and pieces of high quality art such as Catholic icons in our new store."
Welcoming the new store in Lourdes Mr Aidan Chester, Veritas Commercial Manager, said "Lourdes is a very unique and special place, and Veritas is delighted to be opening its doors there in 2012 as part of our new retail expansion plan.  We hope to improve the Lourdes experience for the more than 500,000 Irish pilgrims who visit Lourdes every year.  Veritas is currently examining a number of new opportunities to bring the Veritas brand to new customers, and Lourdes is an exciting first step."
Veritas stores offer customers a wide range of publications on subjects such as prayer, spirituality, theology, scripture and liturgical resources. The new store in Lourdes will also provide a beautiful range of gifts and cards and will cater for all the needs of the travelling pilgrim.
This commitment by Veritas underlines its position as Ireland's largest religious and educational publisher, with a large retail network throughout the country
ENDS
Notes for Editors
• Veritas bookshops
A photograph of this new Veritas store in Lourdes is available from the Catholic Communications Office, Maynooth.  Veritas is the wholly owned publisher of the Irish Catholic Bishops' Conference and it is governed by an appointed Executive Board.  Veritas shops are located across Ireland in Dublin city (Lower Abbey Street), Blanchardstown Town Centre, Belfast (franchise), Derry, Cork, Naas, Limerick, Ennis, Sligo, Monaghan and Letterkenny.  The Lourdes shop will open on 8 February 2012, just before the Feast of Our Lady of Lourdes on 11 February.
• Statistics for Lourdes
– Ireland: 500,000 pilgrims from the 26 dioceses on the island visit Lourdes each year making it the premier destination for Irish pilgrims outside of Ireland.  In April Cardinal Seán Brady led the Irish Pilgrimage Trust pilgrimage to Lourdes with 1,100 pilgrims which consisted of 450 young people with special needs and carers, priest chaplains, nurses and doctors.  In September Archbishop Martin led 2000 pilgrims from the Archdiocese of Dublin on pilgrimage to Lourdes which comprised 640 volunteers, 55 nurses, 9 doctors and 180 sick people with 145 young people from 22 schools from across the diocese who travelled as helpers to assist in the care of the sick pilgrims.
– Global: Five million pilgrims visit the Marian Shrine of Lourdes annually of which over one million are English speakers.
• Feast of Our Lady of Lourdes and World Day of the Sick
The Feast of Our Lady of Lourdes is celebrated each year on 11 February.  On this day in 1858 Our Lady first appeared to 14 year old Bernadette Soubirous in Lourdes.  The Blessed Virgin Mary said to Bernadette: "I am the Immaculate Conception".  In 1992 Blessed John Paul II instituted the World Day of the Sick to be held annually on the Feast of Our Lady of Lourdes.  World Day of the Sick is an invitation to the faithful to join in a day of intense prayer for all who are suffering pain, infirmity and sickness.  In this way we express our solidarity with those who suffer – this solidarity arises from our awareness of the mystery of suffering and its place in God's loving plan for every individual.  The Catholic Church celebrates this special day on 11 February each year at a different Marian shrine around the world.  Previous themes addressed by the Pope Benedict's annual World Day of the Sick message included: sick and suffering children; the Eucharist, Lourdes and Pastoral Care of the Sick; the incurably ill and those dying from terminal diseases; and, the mentally ill.
Further information:
Catholic Communications Office Maynooth: Martin Long 00353 (0) 86 172 7678