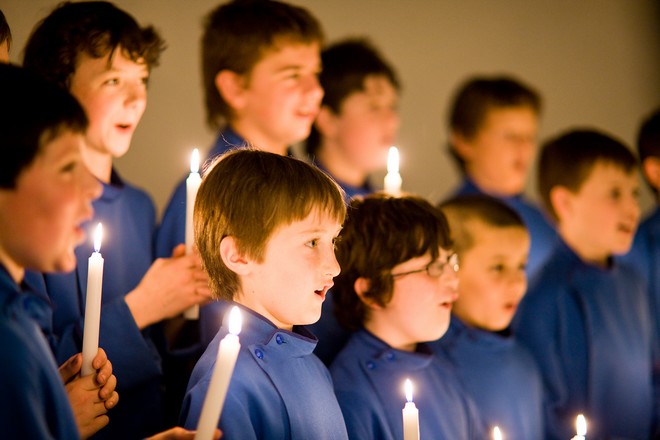 Palestrina Choir launch unique choral tribute to the past and present
As preparations continue for next summer's International Eucharistic Congress in Dublin, a special recording of sacred music and reflections will be launched tomorrow evening (Wednesday 7.30pm) by the Palestrina Choir in St Mary's Pro Cathedral.
When the Eucharistic Congress was held in  Dublin in 1932, former Palestrina chorister Count John MacCormack sang Panis Angelicus  in the Phoenix Park, backed by a choir of 500, led by members of the Palestrina.
This new recording, in a unique tribute to the past and present, includes an original performance of Panis Angelicus by Count MacCormack and a new recording of the famous hymn by the current Palestrina tenor, Jacek Wislocki.
Count MacCormack began his singing career in 1902, when he became a member of the Palestrina Choir. The then choir director, Dr Vincent O' Brien coached him privately leading to his winning the prestigious tenor Award at Dublin's Feis Ceoil in 1903.
Eighty years later The Palestrina Choir is still at the heart of sacred music inDublinand will perform at the International Eucharistic Congress in June 2012.
At tomorrow evening's launch in the historic Pro Cathedral the Choir will perform a wide variety of repertoire on the Eucharist Theme. The repertoire will be incorporated into a service devised by Fr Pat O'Donoghue.  Central to the evening's events will be the launch of the new CD "O Sacrament Most Holy" — a selection of music over the centuries, up to the present time, written to celebrate the Eucharist. The event will also be broadcast live through a new webcam system in the Cathedral on www.dublindiocese.ie.
The recording is part of the ongoing preparations in the Archdiocese of Dublin in advance of next year's Congress. Bishop Ray Field, who is Chairperson of the Dublin IEC Preparatory Committee, said the recording would be a very valuable resource to all those planning to participate in the Congress and would also serve as a historical musical link between the celebrations of 1932 and the contemporary events that are planned for 2012.  The recording includes a specially commissioned piece "God has been Glorified" to mark the International Congress of 2012.
Bishop Field paid tribute to all those who had contributed to the recording, and their skill in preserving the sacred and traditional compositions of centuries past, while including reflections and arrangements of our times.
The live performance tomorrow night and the CD features a wide variety of repertoire on the Eucharistic theme, from the Renaissance polyphony of Byrd and Victoria to the rousing splendour of well-loved hymns, from the Baroque vivacity of Charpentier to the contemporary charm of Colin Mawby.
The launch takes place in St. Mary's Pro- Cathedral,Dublin at 7.30pm tomorrow evening Wednesday. All are welcome.