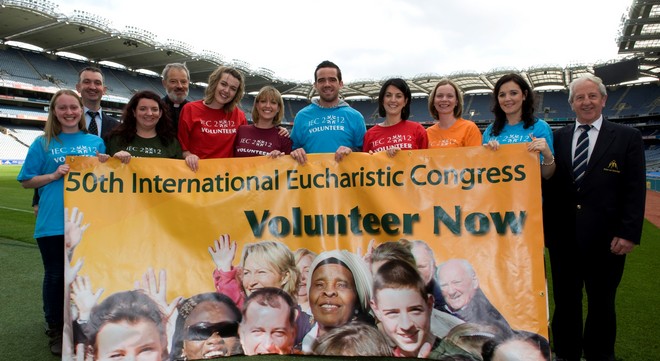 Volunteering for the 50th International Eucharistic Congress
As part of the European Year of Volunteering, Volunteer Ireland is holding a National Day of Volunteering tomorrow Friday 30 Sept. Every voluntary organisation has been asked to mark this day in some way.
The volunteer team for the 50th International Eucharistic Congress, which will take place in Dublin from 10th – 17th June 2012, is using tomorrow to promote volunteering for the Congress. The Congress will need between two and three thousand volunteers. Information on volunteering for the Congress – the biggest event in Ireland in 2012, is available at www.iec2012.ie.
Photo:
Earlier this week, Dublin Footballer Ger Brennan, who is a Congress volunteer, had a team talk with fellow volunteers on the side-line at Croke Park, the venue for the concluding Mass of the Congress next June.
In the photo: Ger Brennan [centre], volunteers, Fr Kevin Doran Secretary IEC2012 [fourth from left] and Paul Rooney Volunteer Services Manager [second from left] in Croke Park, the site for the closing of the International Eucharistic Congress 2012. Also in the photo is Michael Leddy from Croke Park.
Congress stats:
80,000 participants in the closing ceremony; 25,000 participants each day; 12,000 international pilgrims from 5 continents; 2,500 young people celebrating their faith…