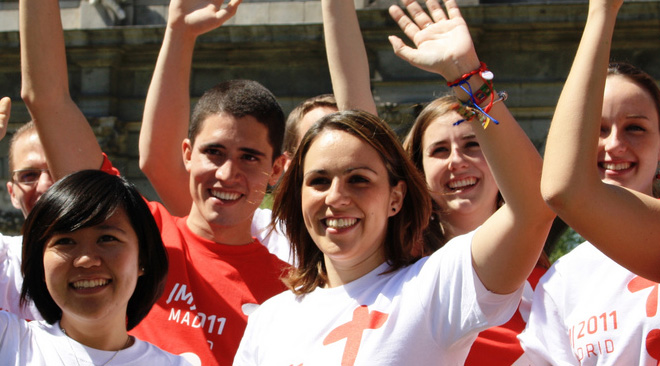 Planes, trains and automobiles lead to Madrid for World Youth Day 2011
Theme: "Planted and built up in Jesus Christ, firm in the faith" (cf. Col 2:7)
World Youth Day will take place in Madrid, Spainfrom 16 – 21 August 2011. The theme chosen by Pope Benedict for World Youth Day 2011 is "Planted and built up in Jesus Christ, firm in the faith" (cf. Col 2:7). A large group of Irish pilgrims will travel to Spain to take part in this year's event which is being hosted in Madrid City. The week-long celebration will include catechesis sessions, music, liturgies, cultural events and an opportunity for pilgrims to meet with other pilgrims from all over the World.
The highlights of World Youth Day are the prayer vigil and the closing Mass which Pope Benedict will preside at. Both of these will take place atCuatro Vientos Airport,Madridon August 20 and 21. At the closing Mass Pope Benedict will announce the venue for the next international World Youth Day.
In his message for World Youth Day 2011 Pope Benedict said: "You are "planted and built up in Jesus Christ, firm in the faith" (cf.Col 2:7). The Letter from which these words are taken was written bySaint Paul in order to respond to a specific need of the Christians in the city ofColossae. That community was threatened by the influence of certain cultural trends that were turning the faithful away from the Gospel. Our own cultural context, dear young people, is not unlike that of the ancient Colossians. Indeed, there is a strong current of secularist thought that aims to make God marginal in the lives of people and society by proposing and attempting to create a "paradise" without him. Yet experience tells us that a world without God becomes a "hell": filled with selfishness, broken families, hatred between individuals and nations, and a great deficit of love, joy and hope. On the other hand, wherever individuals and nations accept God's presence, worship him in truth and listen to his voice, then the civilization of love is being built, a civilization in which the dignity of all is respected, and communion increases, with all its benefits. Yet some Christians allow themselves to be seduced by secularism or attracted by religious currents that draw them away from faith in Jesus Christ. There are others who, while not yielding to these enticements, have simply allowed their faith to grow cold, with inevitable negative effects on their moral lives."
A special feature is now available on the Bishops' Conference website for World Youth Day 2011. It includes:
Pope Benedict XVI's message for World Youth Day
An overview of Irish diocesan pilgrimages toMadrid
A video interview with Bishop Donal McKeown, Auxiliary Bishop of Down and Connor
Links to live updates from four Irish pilgrims who will travel to World Youth Day
Links to the official World Youth Day website and to theVatican
In his video interview Bishop Donal McKeown outlines what World Youth Day is, the relevance of the theme chosen for 2011 and the importance of World Youth Day to the Church.
The links to the live updates from the four Irish pilgrims who will travel toMadridfor World Youth Day will go live in August when World Youth Day commences. These updates will be provided by Bishop Donal McKeown, Fr Sean Cunningham, Diocese of Tuam, Ms Trish O'Neill and Ms Ashleigh O'Neill, both from Clane parish in the Diocese of Kildare and Leighlin. The live updates will give people who are not able to travel to World Youth Day an opportunity to keep in touch with events inMadridas they are happening.
The World Youth Day feature on www.catholicbishops.ie will be updated as additional information becomes available from dioceses.
Notes to Editors:
 World Youth Day was initiated by Blessed Pope John Paul II in 1985. It is celebrated at diocesan level annually, and at a week-long international level every two to three years at different locations. The international level events attract hundreds of thousands of young people from almost every country on the planet.
Blessed Mother Teresa ofCalcuttais the Patron Saint of World Youth Day and since his beatification, Pope John Paul II, who started the event, has become its co-patron
ENDS
Further information:
Catholic Communications Office Maynooth: Martin Long 00353 (0) 86 172 7678 and Brenda Drumm 00353 (0) 87 310 4444