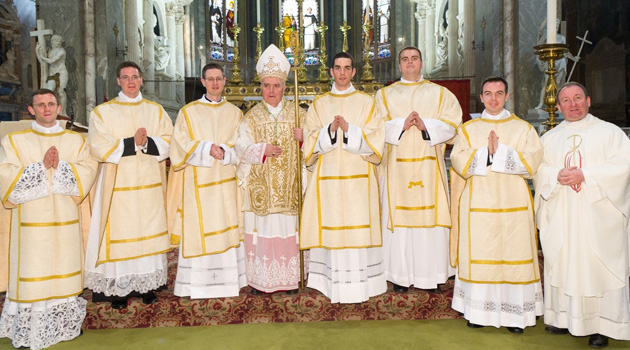 25 April 2011
Pontifical Irish College celebrates ordination of six deacons and supporting Pope Benedict XVI during his Easter ceremonies
Six students from the Pontifical Irish College, Rome, were ordained deacons today, Easter Monday.  The ordination ceremony, celebrated by Bishop Seamus Hegarty, Bishop of Derry, was held in the Church of Santa Maria sopra Minerva in Rome.  Two of the new deacons, Brendan Collins and Patrick Lagan, come from the diocese of Derry whilst the other candidates were Philip John Harris from the Diocese of Waterford and Lismore; Ryan McAleer from the Archdiocese of Armagh; Conor McGrath from the Diocese of Down and Connor; and, Milan Tomaga from the Diocese of Banska-Bystrica in Slovakia.
This is the largest diaconate ordination class from the Pontifical Irish College in over a decade.  Monsignor Liam Bergin, rector of the Pontifical Irish College, congratulated the new deacons on behalf of the Irish College.  Monsignor Bergin said "The staff of the Irish College share in the joy of your families and friends who have come from Ireland and Slovakia for this ordination.  May God bless you in your future ministry."
During the ceremony the six candidates took a promise of celibacy, obedience and formally undertook the responsibility of praying for the Church and the world.  Over the coming year the new deacons will be ordained to the priesthood in their home dioceses.
Seminarians from the Pontifical Irish College were also given the honour of serving at the Easter ceremonies celebrated by Pope Benedict XVI at the Vatican.
Fifteen of the students from the college served the Chrism Mass in Saint Peter's Basilica on Holy Thursday morning.  During the Mass, Pope Benedict blessed the Holy Oils that will be used in ceremonies during the coming year.  Almost 2,000 priests concelebrated this Mass with the Pope and renewed their priestly vows.
Two other seminarians took part in the Mass of the Lord's Supper in the Basilica of Saint John Lateran.  During the Mass, Pope Benedict re-enacted the washing of the feet and the prayers in English were read by the students from the Irish College.
Damian McCaughan, a deacon from the Diocese of Down and Connor, assisted Pope Benedict at the Easter Sunday Mass that was celebrated in St Peter's Square and was followed by the Pope's traditional Urbi et Orbi blessing.  Greeting Damian after the ceremony, Pope Benedict sent his blessing and greeting to the students and staff at the Pontifical Irish College.
ENDS
For further information
For photograph requests please contact Martin Long, Catholic Communications Office, Maynooth, 00 353 861727678