Features
Feature 1 May 2010 | Lough Derg Place of Pilgrimage
| | |
| --- | --- |
| | Lough Derg, one of the oldest pilgrimage sites in Europe, offers an exciting programme of events for 2010. More details here, as well as an interview with Bishop Joseph Duffy, Bishop of Clogher, about Lough Derg. |
---
Video introduction
In this short video interview,
Bishop Joseph Duffy, Bishop of Clogher
, speaks to Mgr Liam McDaid about the significance of Lough Derg for Christians throughout history, and its enduring appeal to pilgrims today.
[videoplayer]Bishop_Duffy_Internet_Project.flv|GetOnline|bishop_duffy_ld_still.jpg[/videoplayer]
---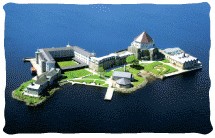 About Lough Derg
St Patrick's Purgatory, Lough Derg, is among the oldest centres of Christian Pilgrimage in Western Europe, supposedly dating back to the sixth century. Lough Derg lies about four miles north of the village of Pettigo in County Donegal, in the Diocese of Clogher. Station Island, the location of the Pilgrimage, is often referred to as Saint Patrick
Other Related Sites


The IEC provides external links as convenience to our users. The appearance of external links does not constitute endorsement by IEC of the information, products or services contained therein.