PRESS RELEASE
21 January 2010
Death of Father Tony Cummins, Ireland's oldest priest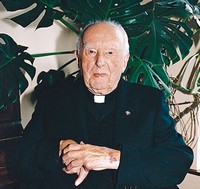 Father Tony Cummins, Ireland's oldest priest, died yesterday at the age of 103 years. Father Cummins, a priest of Diocese of Clonfert was born in Aille, in the parish of Kilnadeema, near Loughrea, County Galway on 6 September 1906.
He attended Aille National School where his mother was a teacher. He received his secondary education at the Diocesan College, Saint Joseph's College Ballinasloe, which was located in both the Pines and later in Garbally Park.
After studying for the priesthood in Saint Patrick's College, Maynooth, Father Cummins was ordained in St Brendan's Cathedral Loughrea on 10 April 1932, in time for the Eucharistic Congress.
As a priest he served in the parishes of Clostoken and Kilconieron, Loughrea as well as Killimor and Tiranascragh, before being appointed parish priest of Kilnadeema and later to Cappataggle and Kilrickle in 1964 where he served as Parish Priest until his retirement in 1987.
He was resident at the Diocesan Retirement Home, Arus Vianney, Ballinasloe until 2003 when he moved to Kilconnell Nursing Home where he died peacefully on Wednesday last, 20 January.
Father Cummins was blessed with an active interest in life right to the end. During his long and dedicated service to his priestly ministry he was well respected and held in affection by his parishioners who saw him as a faithful priest, devoted to his people and God.
Bishop John Kirby, Bishop of Clonfert, who served as a curate to Father Cummins, today paid tribute to Father Cummins who held the senior positions of Vicar Forane and Chancellor of the Diocese of Clonfert for many years.
Bishop Kirby said "Father Cummins had a commitment to his ministry that was firmly rooted in his holiness and his dedication to God. He was an example to us all having served through changing times while continuing to possess a zeal for his priestly ministry. May he rest in peace."
Father Tony Cummins was the last surviving member of his immediate family and is now survived by his nieces and nephews, grandnieces and grandnephews. Father Cummins will be laid to rest in the grounds of Cappataggle Church after 12 noon Mass tomorrow, Friday 22 January.
ENDS
Further information:
Martin Long, Director of Communications 086 172 7678
Mgr Cathal Geraghty, Clonfert Diocese 086 241 6658