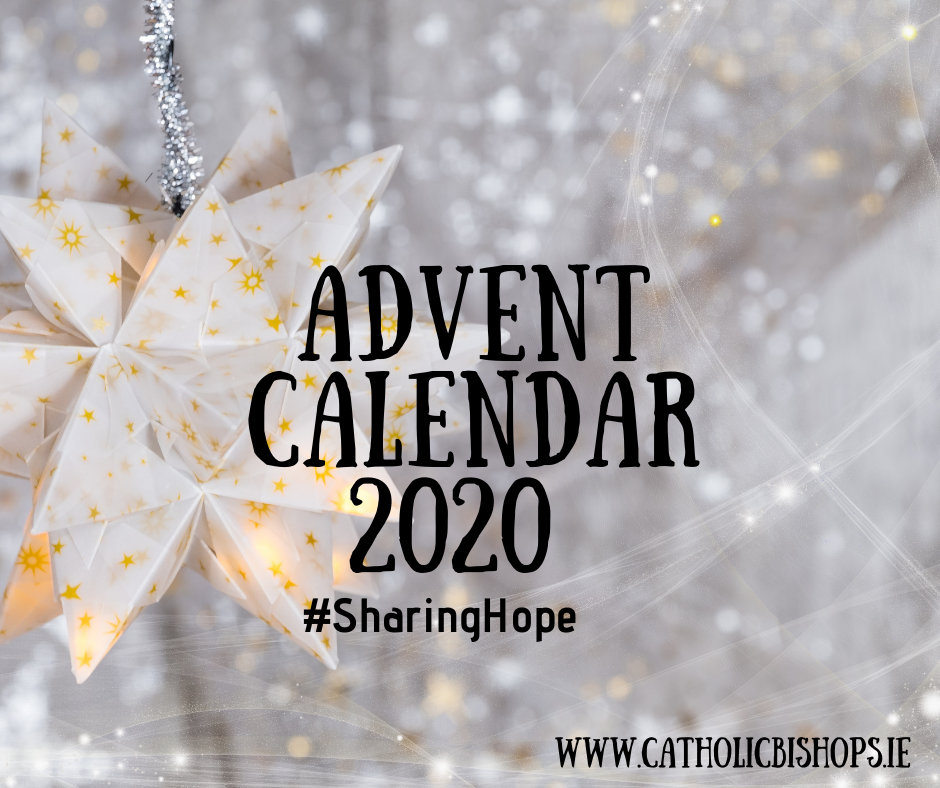 Thank you for #SharingHope with us this Advent Season!
This is the final day of Advent. Thank you for sharing the journey with us this Advent on our calendar. We hope you have enjoyed the resources and that you will be back with us next year. Happy Christmas!
Mass Readings are available on www.catholicbishops.ie/readings.
Bishop Fintan Monahan of Killaloe shares a reflection on today's scriptures in this short video. Click here to watch.
Advent Thought for the Day
Each day during Advent we are bringing you an audio Thought for the Day on a different theme. Today's Thought for the Day is a poem on peace by Desmond Egan. Click below to listen. This Advent and Christmas, make us all instruments of your peace.
The Words of Pope Francis

"In these days, as we prepare the Christmas crib in our homes and churches, let us be attentive to the message of hope it embodies. In the little town of Bethlehem we see revealed God's love for each of us, however small or lowly. In Mary, who trusted in God's word, we see the Mother of Hope. Joseph, too, is the man of hope, who gave Jesus his name, which means "God saves". The peace proclaimed by the angels was heard with joy by the shepherds. May we too open our hearts to the Good News of the Saviour's birth and renew our hope in the Kingdom of justice, peace and holiness that he came to bring."

During Advent we are sharing family prayers and suggestions for acts of kindness or charity that all of us are encouraged to undertake during the month of December.
Advent Random Act of Kindness
Give up some of the time you usually spend on yourself to someone else in your family – even five or ten minutes!
Let's Be Family – Act of Charity
Check through your wardrobes for any warm coats that you are not using and consider passing them on to a worthy cause.
#SharingHope
We invite you to share our message of hope each day of Advent on your social media or website. Here is today's message of hope: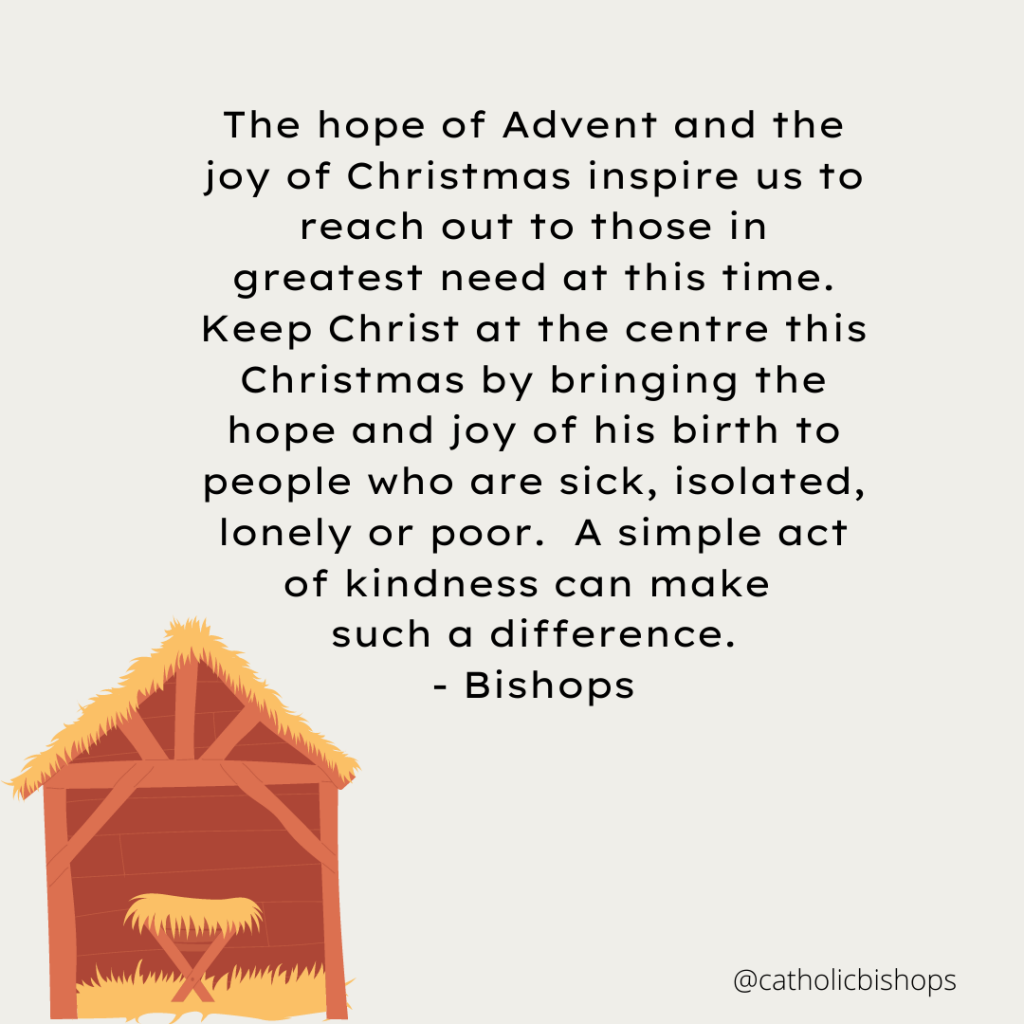 Advent Prayer Intentions
Our Prayer Intention for the Day to Pray Together
May the Lord be with those who find it difficult to make ends meet, especially at this time of the year when there can be extra pressures on household budgets. We ask this through Christ, Our Lord.
Amen
Advent Prayer
Father, in the wilderness of the Jordan,
you sent a messenger to prepare people's hearts
for the coming of your Son.
Help me to hear his words and repent of my sins,
so that I may clearly see the way to walk,
the truth to speak,
and the life to live for him,
Our Lord Jesus Christ.
AMEN
The Christmas Tree
The traditional Christmas tree is a very ancient custom which exalts the value of life, as in winter the evergreen becomes a sign of undying life. In general, the tree is decorated and Christmas gifts are placed under it.
The symbol is also eloquent from a typically Christian point of view: it reminds us of the "tree of life" (Genesis 2:9), representation of Christ, God's supreme gift to humanity.
The message of the Christmas tree, therefore, is that life is "ever green" if one gives: not so much material things, but of oneself: in friendship and sincere affection, and fraternal help and forgiveness in shared time and reciprocal listening.
Pope Saint John Paul II
Advent Music
O Lord, Send Your Justice by Ephrem Feeley is a reflective hymn about God's justice and peace for a broken world. Taken from from the collection Here in Christ we Gather, this prayerful hymn asks for God to restore order and justice to a world torn apart by injustice and corruption.
Click here to listen to the hymn.