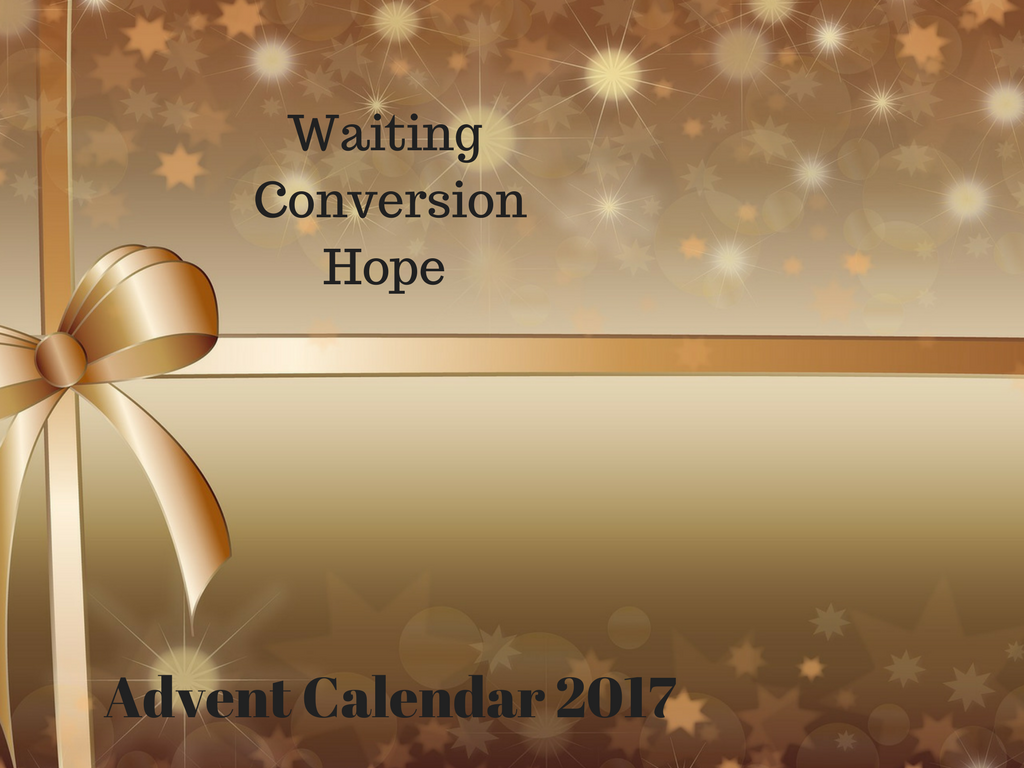 Readings for Saturday 23 December 2017
Mal 3:1-4, 23-24. Ps 24:4-5, 8-9, 10, 14, R/ Lk 21:28. Lk 1:57-66.www.catholicbishops.ie/readings.
The "O" Antiphons
The "O Antiphons" refer to the seven antiphons that are recited (or chanted) preceding the Magnificat during Vespers of the Liturgy of the Hours. They cover the special period of Advent preparation known as the Octave before Christmas, December 17-23, with December 24 being Christmas Eve and Vespers for that evening being for the Christmas Vigil.
The exact origin of the O Antiphons is not known. Boethius (c. 480-524) made a slight reference to them, thereby suggesting their presence at that time. At the Benedictine abbey of Fleury (now Saint-Benoit-sur-Loire), these antiphons were recited by the abbot and other abbey leaders in descending rank, and then a gift was given to each member of the community. By the eighth century, they are in use in the liturgical celebrations in Rome. The usage of the O Antiphons was so prevalent in monasteries that the phrases, Keep your O and The Great O Antiphons were common parlance. One may thereby conclude that in some fashion the O Antiphons have been part of our liturgical tradition since the very early Church.
The importance of O Antiphons is twofold: Each one highlights a title for the Messiah: O Sapientia (O Wisdom), O Adonai (O Lord), O Radix Jesse (O Root of Jesse), O Clavis David (O Key of David), O Oriens (O Rising Sun), O Rex Gentium (O King of the Nations), and O Emmanuel. Also, each one refers to the prophecy of Isaiah of the coming of the Messiah.
Today we focus on the last of the seven – O Emmanuel.
Click here to listen to O Emmanuel.

Advent Thought for the Day
Each day during Advent we are bringing you an audio Thought for the Day Today. Today's Thought for the Day is a Prayer for Emigrants.
Click below to listen to the audio.

Pope Francis believes that in a world where humanity is often wounded, mistreated, and dominated by a lack of love, the family is the "yes" of God as Love. In spite of all the pressures and difficulties it faces, Pope Francis believes that the family is still good news for today's world.
In 2016, he wrote Amoris Laetitia (The Joy of Love), a document about love, marriage and family life, and now he has given Ireland a special responsibility. He has asked Ireland to host the World Meeting of Families in 2018 and to prepare for that event by offering families, parishes and groups a way of thinking about and sharing his message in The Joy of Love: that the Gospel of the Family continues to be a Joy for the World.
The Amoris: Let's Talk Family! Let's Be Family! programme is a response to Pope Francis' request. The programme aims to support families and parishes as we set out on the journey of preparation to the World Meeting of Families, taking place in Dublin from 21st to 26th August 2018, and to continue that journey in the years ahead.
During Advent we are reflecting on some of the themes from Amoris Laetitia as well as inviting you to 'Let's Talk Family! Let's Be Family During Advent'. We are also offering reflections, a thought for the day, and suggesting practical ways we can be family wherever we are. These include daily random acts of kindness, charity and love that families, groups, school classrooms and parishes can take on during Advent.
Let's Talk Family – Thought for the Day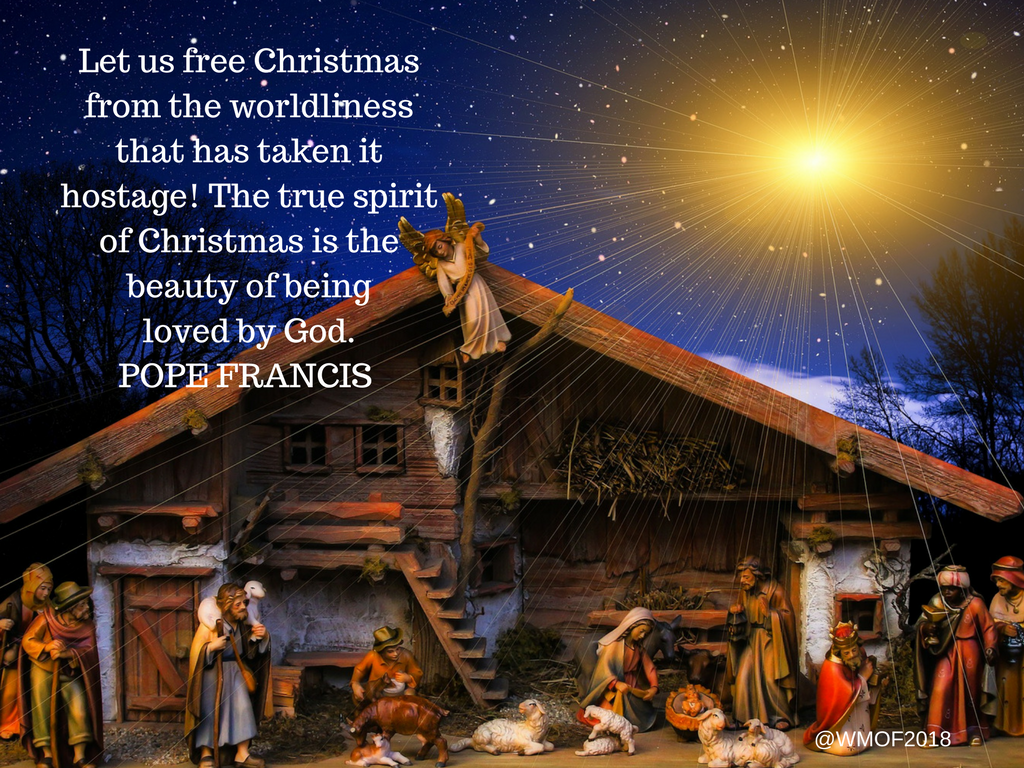 Our family thought for the day for today is from Pope Francis. Please feel free to save this image and to share it across your social media pages.
Let's Talk Family – Pope Francis
Pope Francis speaking to the Roman Curia yesterday. He said, "Christmas reminds us that a faith that does not trouble us is a troubled faith. A faith that does not make us grow is a faith that needs to grow. A faith that does not raise questions is a faith that has to be questioned.
"A faith that does not rouse us is a faith that needs to be roused. A faith that does not shake us is a faith that needs to be shaken. Indeed, a faith which is only intellectual or lukewarm is only a notion of faith.
"It can become real once it touches our heart, our soul, our spirit and our whole being,
once it allows God to be born and reborn in the manger of our heart, once we let the star of Bethlehem guide us to the place where the Son of God lies, not among Kings and riches, but among the poor and humble."
Let's Be Family – Random Act of Kindness
Don't forget to say thank you as you go about last minute shopping today. Be patient with those around you too!
Let's Be Family – Act of Charity
Make a promise to sign up to help out with some local charity in the New Year.
Let's Be Family – Our Prayer Intentions for the Day to Pray Together as a Family
1. For all priests;
that their words and deeds may provide an example
of faithful discipleship and
be a source of encouragement to others.
2. For all our relatives and friends who have died;
that they may become one with Christ
in the kingdom of heaven.
The Meaning in the Shadows
This little child, his words, his life and his death,
is God communicating to you how much you are
loved.
This little child reveals a God whose love for you
is so great that neither your mind nor even your
unlimited imagination, can grasp how much you
are loved.
This little child reveals a love which from the moment
you were created, is God's gift to you for
life and for eternity.
Father Peter McVerry SJ The Meaning in the Shadows, Veritas, 2003.
Choose Life: Prayer for the Child in the Womb
Lord Jesus, you are the source and lover of life.
Reawaken in us respect for every human life.
Help us to see in each child the marvellous
work of our Creator.
Open our hearts to welcome every child as a
unique and wonderful gift.
Guide the work of doctors, nurses and
midwives.
May the life of a mother and her baby in the
womb be equally cherished and respected.
Help those who make our laws to uphold the
uniqueness and sacredness of every human life,
from the first moment of conception to natural
death.
Give us wisdom and generosity to build a
society that cares for all.
Together with Mary, your Mother,
in whose womb you took on our human
nature,
Help us to choose life in every decision we
take.
We ask this in the joyful hope of eternal life
with you, and in the communion of the
Blessed Trinity.
Amen.
Our Lady of Knock, pray for us.
All the Saints of Ireland, pray for us.
Music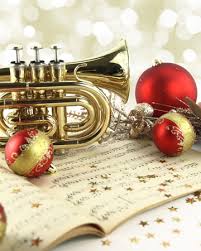 Behold a Virgin Bearing Him
Behold a virgin bearing him Who comes to save us from our sin; The prophets cry: prepare his way! Make straight his paths to Christmas Day.
Behold our Hope and Life and Light, The promise of the holy night; We lift our prayer and bend our knee To his great love and majesty
Click here to listen to this beautiful hymn about Mary.
Ends