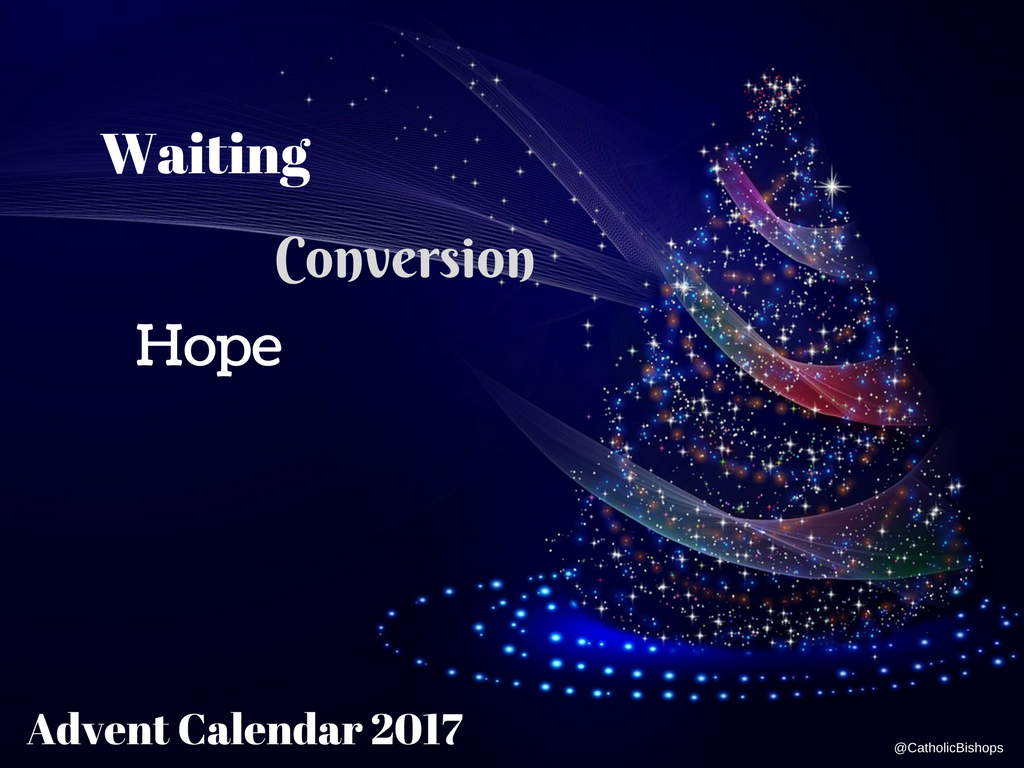 Readings for Thursday 21 December 2017 (Third Week of Advent)
Song 2:8-14 or Zeph 3:14-18. Ps 32:2-3, 11-12, 20-21, R/vv 1, 3. Lk 1:39-45. www.catholicbishops.ie/readings
Elizabeth is honoured by a visit from the mother of her Lord, and the child leaps for joy. Our Advent joy arises from Christ's coming among us. 'Emmanuel, our king and our law-giver, come and save us, Lord our God'.
The O Antiphons
The "O Antiphons" refer to the seven antiphons that are recited (or chanted) preceding the Magnificat during Vespers of the Liturgy of the Hours. They cover the special period of Advent preparation known as the Octave before Christmas, December 17-23, with December 24 being Christmas Eve and Vespers for that evening being for the Christmas Vigil.
The exact origin of the "O Antiphons" is not known. Boethius (c. 480-524) made a slight reference to them, thereby suggesting their presence at that time. At the Benedictine abbey of Fleury (now Saint-Benoit-sur-Loire), these antiphons were recited by the abbot and other abbey leaders in descending rank, and then a gift was given to each member of the community. By the eighth century, they are in use in the liturgical celebrations in Rome. The usage of the "O Antiphons" was so prevalent in monasteries that the phrases, "Keep your O" and "The Great O Antiphons" were common sayings. We might conclude that in some fashion the "O Antiphons" have been part of our liturgical tradition since the very early Church.
The importance of "O Antiphons" is twofold: Each one highlights a title for the Messiah: O Sapientia (O Wisdom), O Adonai (O Lord), O Radix Jesse (O Root of Jesse), O Clavis David (O Key of David), O Oriens (O Rising Sun), O Rex Gentium (O King of the Nations), and O Emmanuel. Also, each one refers to the prophecy of Isaiah of the coming of the Messiah.
Click here to listen to O Oriens (O Rising Sun).


Advent Thought for the Day
Each day during Advent we are bringing you an audio Thought for the Day on a different theme. Today's Thought for the Day is from Sinead Christian of Trócaire, the Overseas Development Agency of the Catholic Church. In this piece Sinead shares a story about a family in Rwanda who received help from Trócaire and the difference it made to their lives and livelihood.
Click below to listen to the audio.

Pope Francis believes that in a world where humanity is often wounded, mistreated, and dominated by a lack of love, the family is the "yes" of God as Love. In spite of all the pressures and difficulties it faces, Pope Francis believes that the family is still good news for today's world.
In 2016, he wrote Amoris Laetitia (The Joy of Love), a document about love, marriage and family life, and now he has given Ireland a special responsibility. He has asked Ireland to host the World Meeting of Families in 2018 and to prepare for that event by offering families, parishes and groups a way of thinking about and sharing his message in The Joy of Love: that the Gospel of the Family continues to be a Joy for the World.
The Amoris: Let's Talk Family! Let's Be Family! programme is a response to Pope Francis' request. The programme aims to support families and parishes as we set out on the journey of preparation to the World Meeting of Families, taking place in Dublin from 21st to 26th August 2018, and to continue that journey in the years ahead.
During Advent we are reflecting on some of the themes from Amoris Laetitia as well as inviting you to 'Let's Talk Family! Let's Be Family During Advent'. We are also offering reflections, a thought for the day, and suggesting practical ways we can be family wherever we are. These include daily random acts of kindness, charity and love that families, groups, school classrooms and parishes can take on during Advent.
Let's Talk Family – Thought for the Day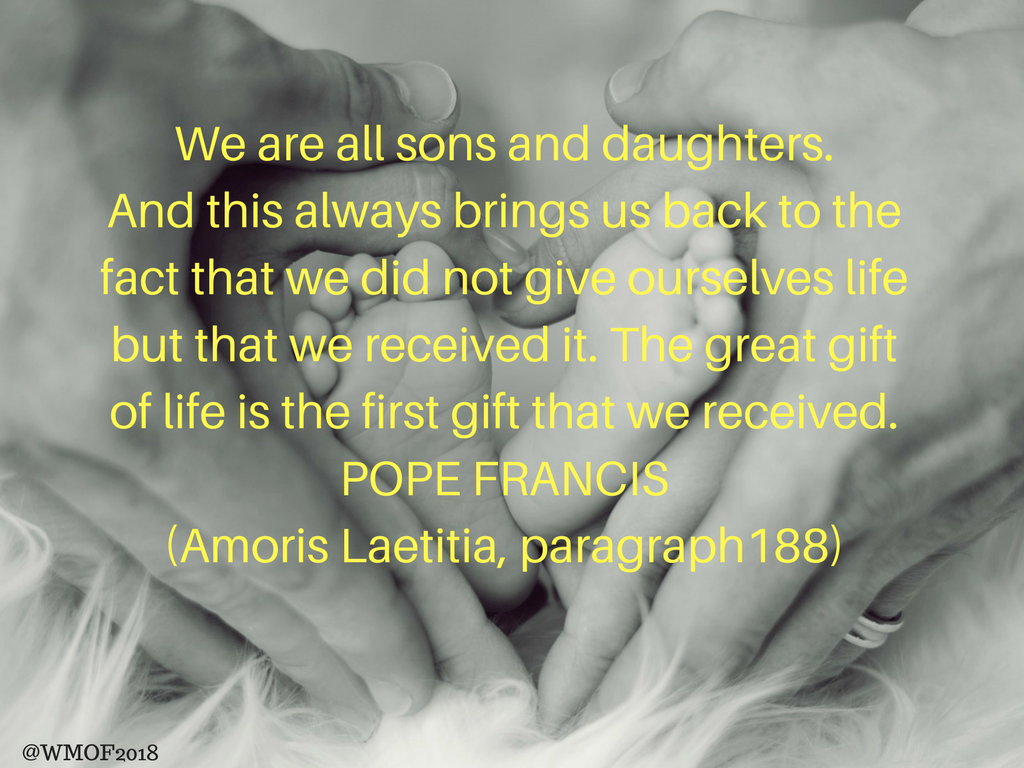 Our family thought for the day for today is from Pope Francis. Please feel free to save this image and to share it across your social media pages.
Let's Talk Family – Pope Francis
The tenderness of God, as his defining trait, was at the heart of a recent homily by Pope Francis at Mass in the Casa Santa Marta. The theme was taken from the first reading from the Book of the Prophet Isaiah and the psalm where God says of himself: "… his tenderness expands over all creatures". The image presented by Isaiah is that of a God who speaks to us as a father with his child, imitating his voice to make it as similar as possible to his. And first of all he reassures him by caressing him: "Do not be afraid, I will come to your aid".
"It seems that our God wants to sing us a lullaby. Our God is gifted at this. His tenderness is this: he is a father and a mother. Many times he said: "But if a mother forgets her son, I will not forget you. He carries us in his deep within. He is the God who with this dialogue makes himself small to make us understand, to make us trust in him and we can tell him with the courage of Paul who changes the word and says: ", Abba Father". Father … It's the tenderness of God."
The great that becomes small and the small that is great
It is true, said Pope Francis, sometimes God raps us over the knuckles, He is great, but with his tenderness he approaches us and saves us. And this is a mystery and one of the most beautiful things:
"He is the great God who makes himself small and in his smallness he does not stop being great. And in this great dialectic he is small: there is the tenderness of God. The great that makes himself small and the small that is great. Christmas helps us to understand this: in that manger … the little God. A phrase from St. Thomas comes to mind in the first part of Summa [Theologica]. Wanting to explain this: "What is divine? What is the most divine thing? ", He says:" "to the maximum tamen continents at the minimum divinum est", that is, do not be frightened of big things, but keep small things in mind. This is divine, both together."
But where, in particular, is the tenderness of God shown?
God not only helps us, but he also makes us promises of joy, of a great harvest, to help us move forward. God, repeated Pope Francis, is not just father but a Dad:
"Am I able to speak with the Lord like this or am I afraid? Everyone answers. But someone can say, he can ask: "But what is the theological place of God's tenderness? Where can the tenderness of God be found? What is the place where God's tenderness is best manifested? "-" The wounds ". My wounds, your sores, when you meet my wound with his wound. We have been healed in their wounds.
And the Pope recalled the parable of the Good Samaritan: there, someone bent over the man who had stumbled upon brigands and helped him by cleaning his wounds and paying for his recovery. Here is "the theological place of God's tenderness: our wounds". And the Pope concludes by exhorting us to think about the Lord's invitation during the day: "Come on, come on: show me your wounds. I want to heal them ".
Let's Be Family – Random Act of Kindness
Tell your family members that you love them. It's a small word with big consequences but we often forget to tell the people around us that we love them.
Let's Be Family – Act of Charity
Support families in need this Christmas. Give what you can to local parish food banks.
Let's Be Family – Our Prayer Intentions for the Day to Pray Together as a Family
1. For all who are suffering from the effects of war:
that God will give them strength and calm their fear.
2. For a spirit of hope this Advent Season;
that we may grow in our abiding trust that God is always with us
and will never abandon us.
Prayer of Hospitality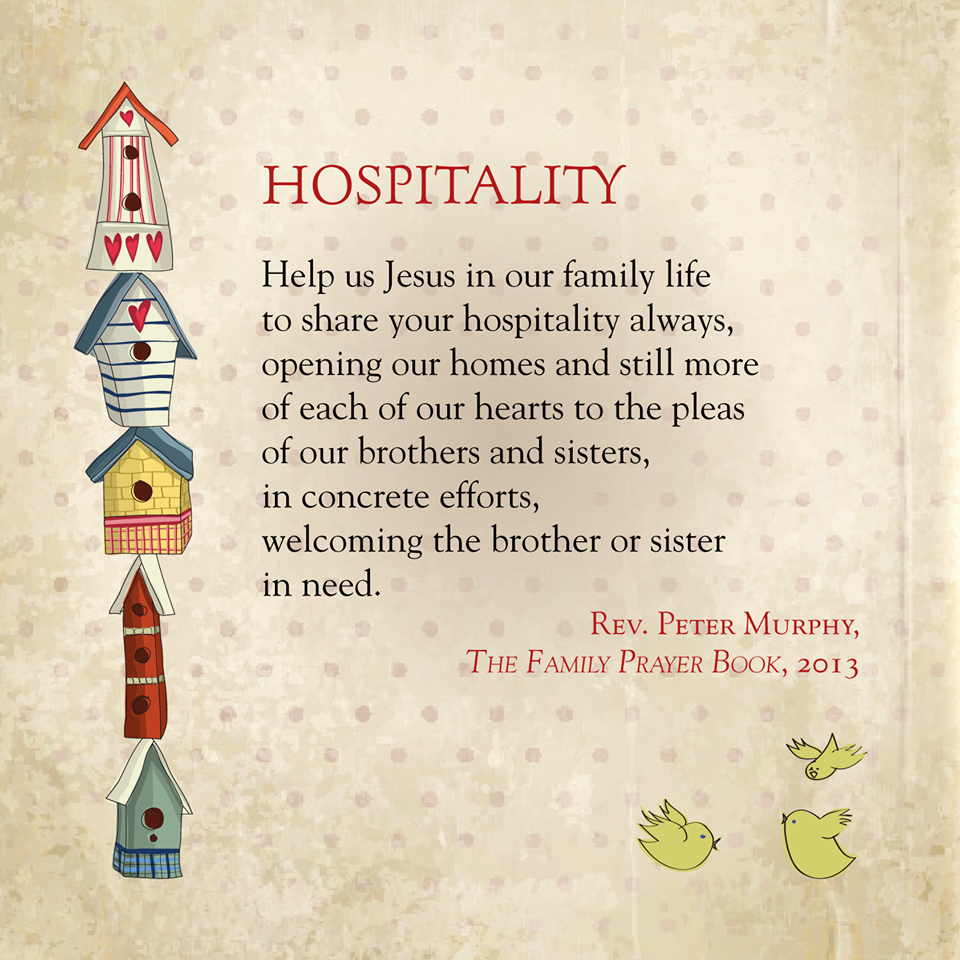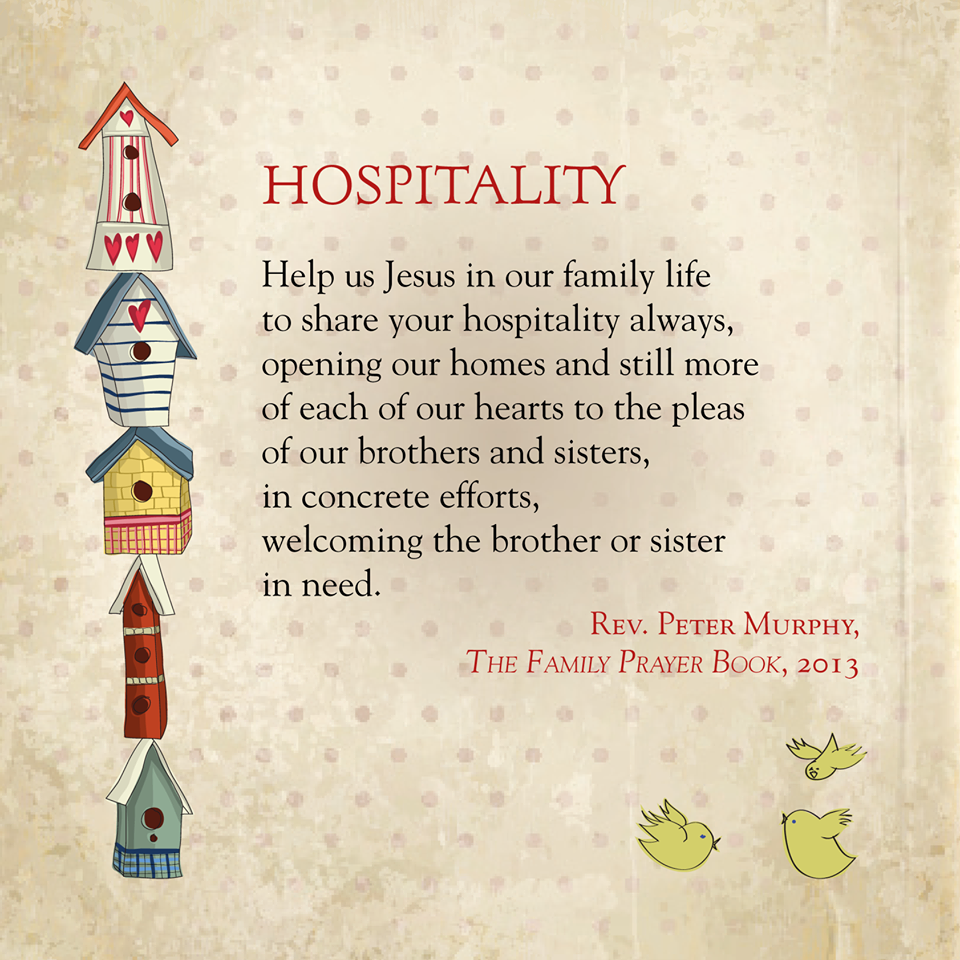 Advent Music
Click here to listen to the beautiful Gaudete – Introitus Dominica Tertia Adventus.
Ends