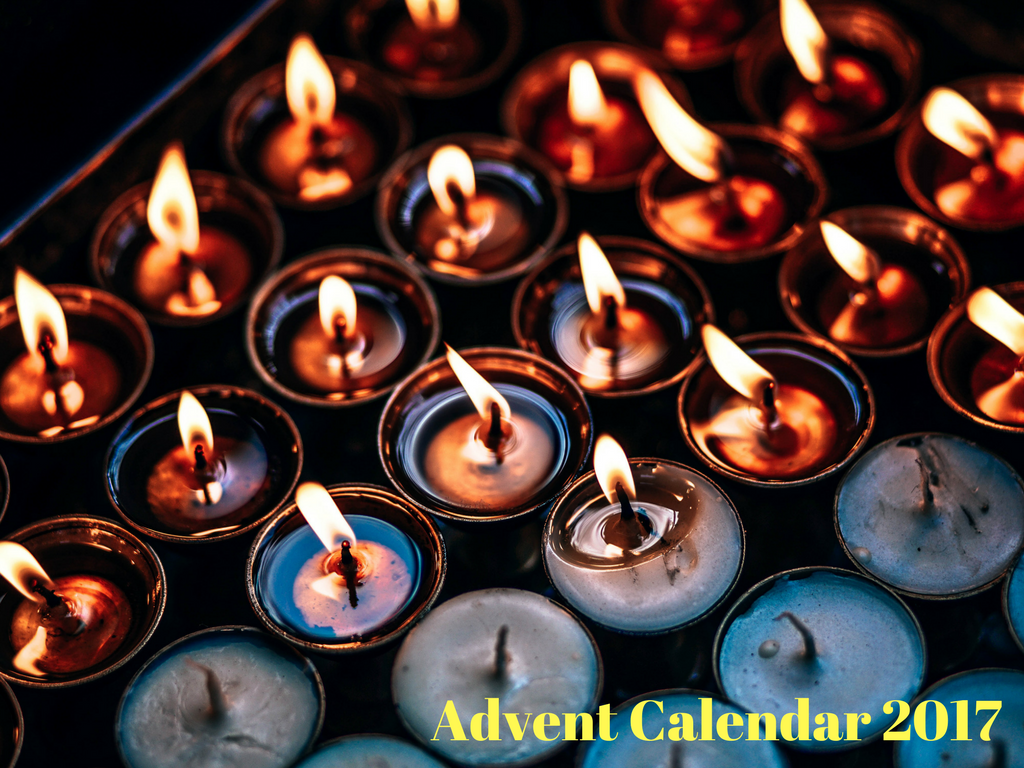 Readings for Monday of the Third Week of Advent
Jer 23:5-8. Ps 71:1-2, 12-13, 18-19, R/ cf v 7. Mt 1:18-24. www.catholicbishops.ie/readings


Audio: Advent Thought for the Day
Each day during Advent we are bringing you an audio Thought for the Day on a different theme. Today's Thought for the Day is from Father Vincent Sherlock, a priest of the Diocese of Achonry. In this piece Father Vincent invites us to become Christmas, in what we say and do, in how we live Advent and in how we behave towards the people around us at this time of year.
Click below to listen to the audio.
The "O Antiphons" refer to the seven antiphons that are recited (or chanted) preceding the Magnificat during Vespers of the Liturgy of the Hours. They cover the special period of Advent preparation known as the Octave before Christmas, December 17-23, with December 24 being Christmas Eve and Vespers for that evening being for the Christmas Vigil.
The exact origin of the "O Antiphons" is not known. Boethius (c. 480-524) made a slight reference to them, thereby suggesting their presence at that time. At the Benedictine abbey of Fleury (now Saint-Benoit-sur-Loire), these antiphons were recited by the abbot and other abbey leaders in descending rank, and then a gift was given to each member of the community. By the eighth century, they are in use in the liturgical celebrations in Rome. The usage of the "O Antiphons" was so prevalent in monasteries that the phrases, "Keep your O" and "The Great O Antiphons" were common sayings. We might conclude that in some fashion the "O Antiphons" have been part of our liturgical tradition since the very early Church.
The importance of "O Antiphons" is twofold: Each one highlights a title for the Messiah: O Sapientia (O Wisdom), O Adonai (O Lord), O Radix Jesse (O Root of Jesse), O Clavis David (O Key of David), O Oriens (O Rising Sun), O Rex Gentium (O King of the Nations), and O Emmanuel. Also, each one refers to the prophecy of Isaiah of the coming of the Messiah.
Click here to listen to O Adonai (O Lord).

Pope Francis believes that in a world where humanity is often wounded, mistreated, and dominated by a lack of love, the family is the "yes" of God as Love. In spite of all the pressures and difficulties it faces, Pope Francis believes that the family is still good news for today's world.
In 2016, he wrote Amoris Laetitia (The Joy of Love), a document about love, marriage and family life, and now he has given Ireland a special responsibility. He has asked Ireland to host the World Meeting of Families in 2018 and to prepare for that event by offering families, parishes and groups a way of thinking about and sharing his message in The Joy of Love: that the Gospel of the Family continues to be a Joy for the World.
The Amoris: Let's Talk Family! Let's Be Family! programme is a response to Pope Francis' request. The programme aims to support families and parishes as we set out on the journey of preparation to the World Meeting of Families, taking place in Dublin from 21st to 26th August 2018, and to continue that journey in the years ahead.
During Advent we are reflecting on some of the themes from Amoris Laetitia as well as inviting you to 'Let's Talk Family! Let's Be Family During Advent'. We are also offering reflections, a thought for the day, and suggesting practical ways we can be family wherever we are. These include daily random acts of kindness, charity and love that families, groups, school classrooms and parishes can take on during Advent.
Let's Talk Family – Thought for the Day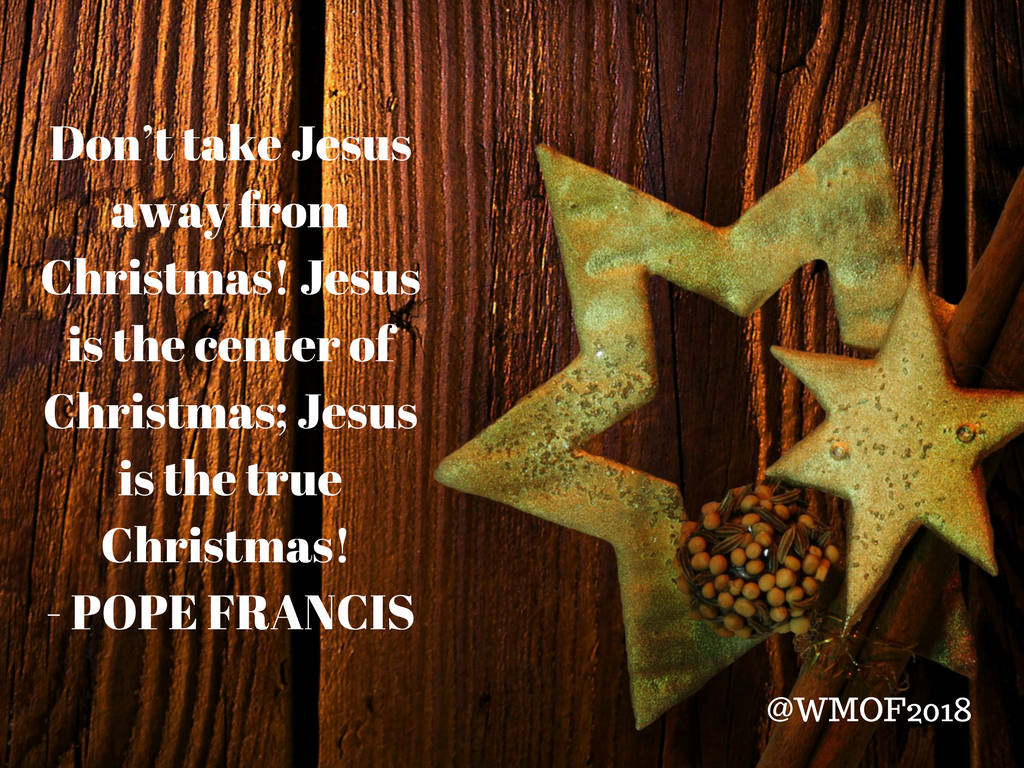 Our family thought for the day for today is from Pope Francis. Please feel free to save this image and to share it across your social media pages.
Let's Talk Family – Pope Francis
In order to help faithful and little ones prepare for the true meaning of Christmas, Pope Francis has given faithful, and little ones, advice, during his Angelus address on Gaudete Sunday.
Gaudete Sunday, is the traditional Bambinelli Sunday, when children from across Italy bring their figurines of the Baby Jesus for a blessing at the Angelus in St. Peter's Square.
In his address to the faithful in St. Peter's Square, Pope Francis reminded faithful that the past Sundays, the liturgy has stressed what it means to put oneself in an attitude of vigilance, and what it entails concretely to prepare the way of the Lord.
However, in this Third Sunday of Advent, called the "Sunday of joy," the Pope noted, "the liturgy invites us to receive the spirit with which all this happens, that is, exactly, joy. Saint Paul invites us to prepare the coming of the Lord by assuming three attitudes: constant joy, persevering prayer and constant thanksgiving."
The first attitude that St. Paul calls for is constant joy: "Rejoice always" (1 Thessalonians 5:16).
"It means to remain always in joy, even when things don't go according to our desires, and when there are anxieties, difficulties and sufferings, Francis said, noting, "Jesus came on earth to give back to men the dignity and freedom of the children of God, which only He can communicate, and to give joy."
The second attitude, he continued, requires–as St. Paul said–praying constantly.
"Through prayer, we can enter a stable relationship with God, who is the source of true joy. A Christian's joy is not purchased, it can't be bought, it comes from faith and from the encounter with Jesus Christ, the reason of our happiness. And the more we are rooted in Christ, the closer we are to Jesus, the more we rediscover interior serenity, even in the midst of daily contradictions."
The third attitude pointed out is constant thanksgiving, namely, grateful love in our relationship with God. "In fact, He is very generous with us, and we are invited to be grateful always for His benefits, His merciful love, His patience and kindness, thus living in incessant gratitude."
Joy, prayer and gratitude, the Holy Father said, are three attitudes that prepare us to live Christmas genuinely.
"Let us all say it together: joy, prayer and gratitude [the people in the Square repeat it] Once again! [They repeat it]. In this last stretch of the Season of Advent, we entrust ourselves to the maternal intercession of the Virgin Mary. She is the "cause of our joy," not only because she generated Jesus, but because she sends us continually to Him."
After the midday prayer, the Pope affectionately greeted the children that have come for the blessing of the "Baby Jesus's."
The Pontiff gave them the following advice: "When you pray at home, before the Crib with members of your family, let yourselves be drawn by the tenderness of Baby Jesus, born poor and frail in our midst, to give us His love."
Francis said this is the 'true Christmas.'
"If we take Jesus away, what remains of Christmas? An empty celebration. Don't take Jesus away from Christmas! Jesus is the center of Christmas; Jesus is the true Christmas! Understood?"
Pope Francis, as usual, concluded wishing those present a good Sunday and good lunch, and asking those present to pray for him.
Let's Be Family – Random Act of Kindness
Be aware of those living alone and check in on them to see if they need help with anything in the run up to Christmas.
Let's Be Family – Act of Charity
Support families in need this Christmas. Give what you can of your time or make a donation to one of the many organisations helping people in need.
Let's Be Family – Our Prayer Intention for the Day to Pray Together as a Family
1. For an increase in vocations to the priesthood and the religious life;
especially within our diocese/parish.
2. For all who await God's blessing; that God's comforting and strangthening
love will sustain them.
3. Prayers for Those Away From Home
Loving God,
We pray for those whom we love
But who are absent from us.
Keep them safe from all harm, evil and danger.
Bless them with peace, laughter, wisdom, love and joy.
Grant that we may be reunited in the fullness of love;
In Christ's name we pray.
AMEN
Family Table Prayer for Christmas Day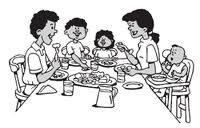 This is a family table prayer for Christmas Day but it might be used for any meal
during advent and Christmas. Click here to access the prayer.
Advent Music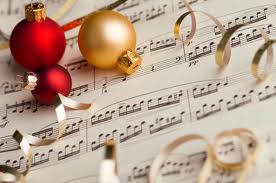 This is an instrumental version of the well-known Advent Hymn O Come O Come Emmanuel and it is performed here by the Piano Guys. Click here to listen/watch.