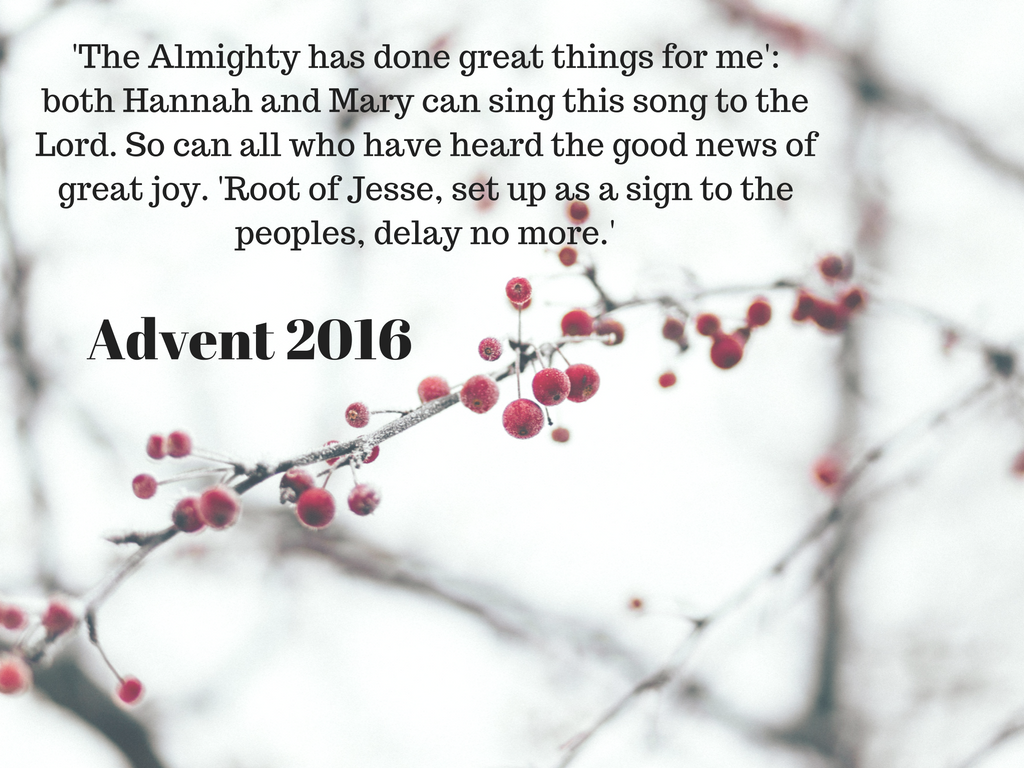 Readings for Thursday 22 December 2016
1 Sm 1:24-28. Ps 1 Sam 2:1, 4-8, R/ v 1. Lk 1:46-56. www.catholicbishops.ie/readings
'The Almighty has done great things for me': both Hannah and Mary can sing this song to the Lord. So can all who have heard the good news of great joy. 'Root of Jesse, set up as a sign to the peoples, delay no more.'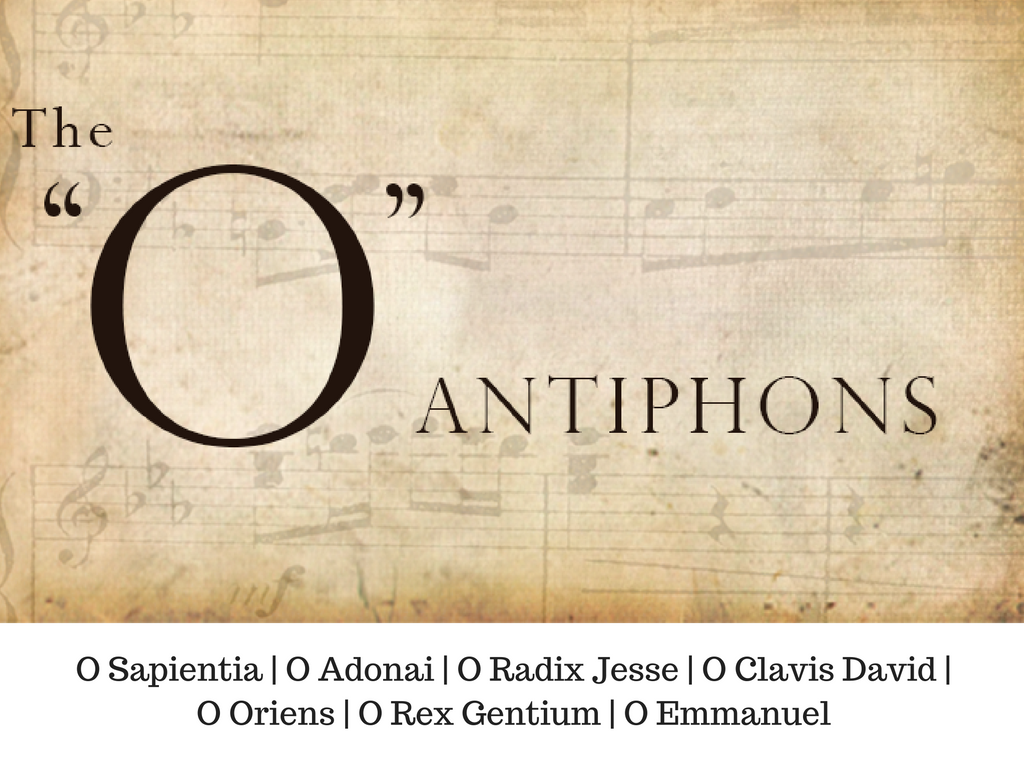 The O Antiphons – O Rex Gentium
The "O Antiphons" refer to the seven antiphons that are recited (or chanted) preceding the Magnificat during Vespers of the Liturgy of the Hours. They cover the special period of Advent preparation known as the Octave before Christmas, December 17-23, with December 24 being Christmas Eve and Vespers for that evening being for the Christmas Vigil.
Today we focus on the sixth of the seven O Antiphons – O Rex Gentium (O King of the Nations).
Latin: O Rex gentium, et desideratus earum, lapisque angularis, qui facis utraque unum: veni, et salva hominem, quem de limo formasti.
English: O King of the gentiles and their desired One, the cornerstone that makes both one: come, and deliver man, whom you formed out of the dust of the earth.
Click here to listen to O Rex Gentium.
Advent Thought for the Day
Each day during Advent we have brought you an audio Thought for Today on a different theme. Today's Thought for the Day is from Eliza Long aged 5. Eliza is a Junior Infant pupil from Dunboyne, Co Meath. In this piece Eliza shares a medley of well known Christmas favourites. She also shares a special Christmas greeting with all those following this Advent Calendar.
We say Happy Christmas to Eliza's teacher, to Eliza herself and to all her classmates.
Click below to listen to the audio:
The Words of Pope Francis
"In these days, as we prepare the Christmas crib in our homes and churches, let us be attentive to the message of hope it embodies. In the little town of Bethlehem we see revealed God's love for each of us, however small or lowly. In Mary, who trusted in God's word, we see the Mother of Hope. Joseph, too, is the man of hope, who gave Jesus his name, which means "God saves". The peace proclaimed by the angels was heard with joy by the shepherds. May we too open our hearts to the Good News of the Saviour's birth and renew our hope in the Kingdom of justice, peace and holiness that he came to bring."
Wednesday General Audience 20 December 2016
Pope Francis on Twitter
Our joy comes from the confidence we have that the Lord is close to us with his tenderness, mercy, forgiveness and love.- @Pontifex.

Advent Prayer Intentions
Lord, may this Christmas bring new hope to all, especially those affected by the many natural disasters and by acts of war and terrorism. We pray for those who continue to suffer from famine in our world of plenty! We pray too in a special way for the people of Aleppo and Syria. Lord, help us to not just be moved by the images of suffering but to act to effect peace in our world.
Lord we ask you to keep everyone travelling at Christmas time safe on our roads and transport networks. We pray for members of the emergency services and all first responders who do their work so selflessly throughout the year. We also pray for doctors, nurses and other healthcare workers.
Advent Book Recommendation – Love One Another as I Have Loved You
Love One Another as I Have Loved You is the title of a new book of prayers, meditations and reflections from Father Gareth Byrne, a priest of the Archdiocese of Dublin. The book has been published just in time for Christmas. Love One Another as I Have Loved You is a response to the publication by Pope Francis of Amoris Laetitia, his apostolic exhortation 'on Love in the Family' (2016).
This collection includes reflective pieces on love, family, friendship, community and on the Church as the family of Christ. With the World Meeting of Families to be hosted by the Archdiocese of Dublin in August 2018, this is an opportunity to begin to think and pray in new ways about what family and relationships mean to us.
Love One Another as I Have Loved You is available from Veritas stores for €4.99.
Advent Music
O Lord, Send Your Justice by Ephrem Feeley is a reflective hymn about God's justice and peace for a broken world. Taken from from the collection Here in Christ we Gather, this prayerful hymn asks for God to restore order and justice to a world torn apart by injustice and corruption.
Cantor – Tomas Kenny
Organ – David Burke
Piano – Ephrem Feeley
Click here to listen to the hymn.